Disclosure: As an Amazon Associate We earn from qualifying purchases.
If you do welding, you know how the profession can be dangerous without the right safety tools. Among the most crucial safety gear every experienced or aspiring welder must possess is a light welding helmet. A lightweight welding helmet's role is to protect welders from sparks, radiations (such as UV and infrared), spatter and many other potential hazards that may occur within the welder's environment. The lightest welding helmet always brings comfort while you go welding for a long period of time.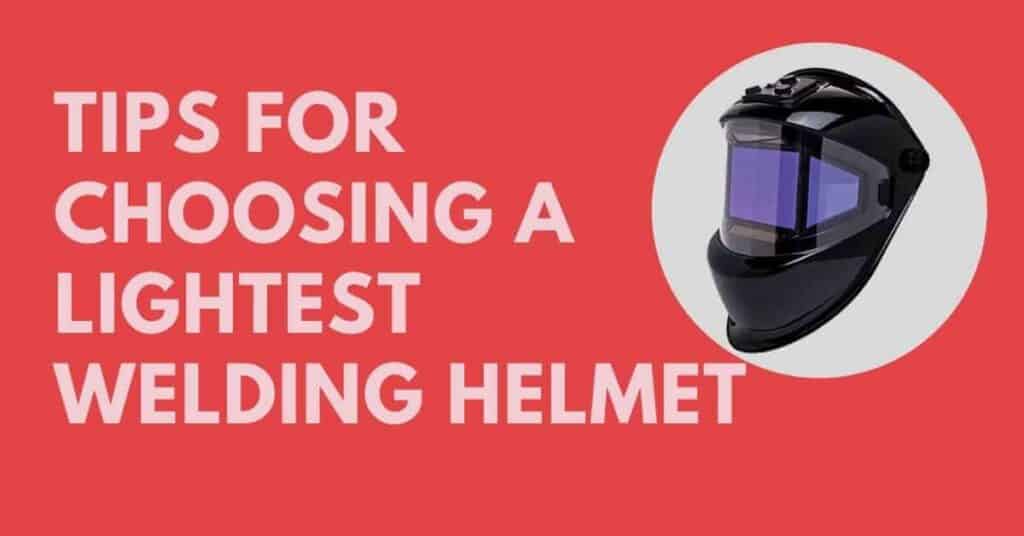 If you go to the market today, you will realize that there are different sorts of welding helmets — something that may get you stuck trying to choose the best one. You will even find it more challenging if you are purchasing your welding helmet for the first time.
We understand how challenging the task can be, and that's why we are composing this post to guide you. We want you to have confidence and peace of mind when finding the lightest welding helmet that will offer you maximum protection as you do your job.
Your Comprehensive Guide to Choosing the Best Lightest Welding Helmet
Consider The Type of Lenses
When purchasing the best lightweight helmet, your first consideration should be the lens types. Experts advise you to never buy your welding helmet without paying attention to the quality and type of the lens. Typically, there are two sorts of lenses which are;
Passive – made from polycarbonate plastic and
Auto-darkening – made from liquid crystal display glass (LCD glass)
The latter is the most preferred option for many welders as it offers greater functionality and productivity than its counterpart.
Before deciding whether the welding helmet in question is a good option for you or not, look at the shade number. This number tells you more regarding the intensity of light radiations that can pass through the helmet lens to your eyes. The shade numbers usually range from 4 to 13 – shades 4 to 8 are commonly used for cutting or grinding purposes, while 9 to 13 is mostly used for welding.
You should also decide whether you want a fixed or variable lens. A fixed-shade helmet will only darken to one pre-determined shade (shade #10). On the other hand, a variable-shade helmet will darken to several shades. The decision you make will primarily depend on how flexible you want your welding experience to be.
Consider The Safety Standards Of The Welding Helmet in Question
According to experts, you should confirm whether the welding helmet you are purchasing meets the set standards before buying it. Depending on your state, all sorts of welding helmets are required to meet specific standards for them to be considered safe for welders. For instance, in the United States, welding helmets must comply with the ANSI standards, and in Canada, they must be CSA compliant.
These safety standards give you a guarantee that the helmet you are about to purchase will protect yours from anything that may affect your eyes, e.g., UV and infrared radiations.
Choose The Lightest Welding Helmet
Another thing to pay attention to when choosing the best head helmet for your welding needs is its weight. There is no point in selecting a heavy helmet that will cause neck strain with extended use.
A lightweight helmet has an added benefit in the sense that you can comfortably use it the whole day long without experiencing fatigue. With a heavy or bulky helmet, your productivity will be low to the extra weight on your head.
Consider The Cost of The Lightest Welding Helmet Available In The market
Whether you are shopping for your welding helmet online or from a physical store within your neighborhoods, you will realize that different types cost varying amounts. You are advised only to consider what you can pay for without emptying your pockets or entering into bad debts.
However, you should be keen not to compromise on quality as you try to save on cost. Keep in mind that expensive is not necessarily better, like many people tend to think. Shop smartly, and you will get an excellent lightweight welding helmet that will be good for your particular needs.
Solar Vs. Battery Power
An ADF helmet will require some reliable source of power – there are two forms of power for your welding helmet, i.e., solar power and batteries or, in some cases, both. Solar-powered welding helmets are economical in the long run – you only need to place them a few hours in the sun to recharge.
The case is different with a battery-powered helmet, as they don't need to be recharged. You can replace the batteries in a matter of seconds and continue with your welding tasks. If you don't want to waste time recharging, go for battery-powered helmets; however, if you are looking for a more economical option in the long run, go for solar-powered welding helmets.
Wrap Up
As you can see, there are very many considerations to make when purchasing the best, lightest welding helmets. Shop smartly with the help of this post, and you will never go wrong.