Disclosure: As an Amazon Associate We earn from qualifying purchases.
You put off jewelry, wear safety gloves, boots, and goggles to protect yourself from the danger of welding!
But when it comes to wearing a welding helmet that shields flash burns (the number one welding accident), you refused to put it on.
Your old experience discourages you from putting the helmet on.
We know what was your old experience as we also suffered the same problem. If we are right, we bait you that you face the following dilemma:
Cause neck strain for the
non-adjustable fit
Obscure viewing area
Can't keep the head stable and a lots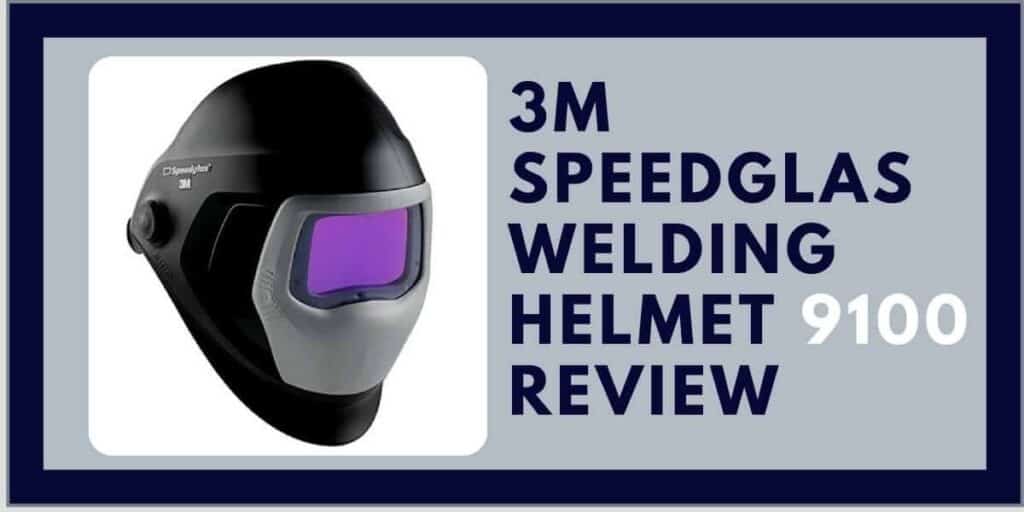 Despite your unwillingness, you have to wear a helmet. Because at the end of the day you don't want to return home with the flash burn.
To save you from the hassle, we are here to help you out.
In this guide, we introduce you to the most preferred helmet: 3M Speedglas Welding Helmet.
Its customizable fit reduces your neck pressure and keeps the helmet tight in your head.
And the best part is- it protects you from the UV & infrared radiation.
To explore more helpful features, start reading this 3M Speedglas Welding Helmet Review from top to bottom.
Quick Overview 3M Speedglas Welding Helmet 9100
The 3M SpeedGlas Welding Helmet 9100 is the best helmet for welding.
It comes with a large viewing area with an auto-darkening filter. In other words, this offers you more readily recognized colors. As a result, you can get a well-controlled welding environment.
Therefore, the customizable headband lets you adjust the helmet to get a perfect fit. So, you can feel comfortable wearing it.
Above all, its smart ventilation system offers superior comfort, controlling humidity, heat, and fog.
Indeed, this 3M welding helmet doesn't only provide safety but offers ultimate comfort.
Key Features & Benefits
Ergonomic Design
The first and foremost feature of this 3M welding helmet is its ergonomic design & customizable fit.
It comes with two adjustable crown straps that help to distribute weight and provide stability. In other words, this helmet doesn't wobble around your head and offers you a smooth fit.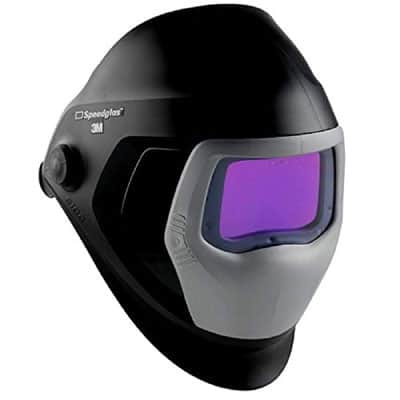 For its better weight distribution, you can't feel you wear a helmet. On top of that, the front headband is well-padded that decreases pressure. So, you will feel comfortable by wearing it.
Therefore, with a snap, you can adjust this helmet into nine different angles. Plus, the swivel-mounted ratchet system provides you to tighten the helmet according to your need.
Even you will get the perfect position and customization for its large knobs.
Indeed, you can't find a single alternative to this helmet that offers excellent fit and comfort.
For its customizable & ergonomic design, this helmet can easily be fitted with 6.25-8 head sizes (50-64 cm).
Largest Viewing Area
The 3M 9100 comes with a large viewing area. It features 2.8 inches high and 4.2 inches wide viewing area. As a result, you can see the welding workflow in progress without any hindrance. It doesn't only let you inspect the completed weld but also ensures precise grinding. Besides, the clear view provides superior safety as you can see everything.
Auto Darkening Filter 9100XXi
Another sweet feature we spot out of this 3M Helmet is the Auto-Darkening Filter 9100XXi. It offers professional-grade eye & face protection from harmful radiation & working debris. The best feature of this is its improved optics. With it, you can get a detailed view as it offers a more recognizable color, contrast, shade, and tone. In simple words, it offers a crystal clear view to let you set-up welding techniques and offers precise workflow.
3M Speedglas Welding Helmet 9100, 06-0100-30iSW, with Auto-Darkening Filter 9100XXi 3 Arc Sensors for MMAW TIG MIG Tack Plasma Arc Welding and Grinding Mask, 1 Each, Black
IMPROVED OPTICS — 9100XXi Auto Darkening Filter enables more realistic colors to be visible for welders. See your welds and welding pool with more precision, contrast and natural-looking colors
FAST AND EASY ACCESS — External welding helmet controls enable grinding and memory modes using 9100XXi silver front panel without removing your gloves
TWO MEMORY MODES — Allows a welder to set individual auto darkening filter settings for darkness shade, light-to-dark switching sensitivity and dark-to-light delay with the push button access
AUTO-ON TECHNOLOGY — Allows you to grab their welding helmet and get to work quickly by turning to the last setting used
EXPANDED PERIPHERAL VISION — Side windows enable a large field of vision making potential hazards such as obstacles and coworkers more visible
3M Speedglas Silver Front Panel 9100XXi
3M Speedglas Silver Front Panel 9100XXi is another noteworthy feature of this helmet. With it, you can conveniently switch between welding mode to grinding mode.
For the touch button on the silver front panel, you can easily change the welding mode. In return, you don't need to remove the helmet, which saves you a lot of time.
Therefore, this helmet has two memory modes, in which you can save welding modes. Each of the memory modes has a specific setting for dark shade, light to dark shade sensitivity.
Consequently, you can get the recent welding mode whenever you wear the helmet for its grab & go feature.
Three Arc Detection Sensors
The SpeedGlas lens has three arc detection sensors. Every time the arc is struck, the auto-darkening mode will activate. The lens takes only 0.1 milliseconds to switch the mode from light to dark shade.
As a result, you will get an instant transition from light to dark shade without losing the visibility for torch placement. After completing the weld, the filter automatically switches to light shade 3.
Shade Setting
Shade setting is another remarkable feature of the 3M welding helmet. You can find seven different shade settings, including 5, 8, and 9-13. Pressing the shade on button, you can view the current setting you weld with.
You can choose each of the shade settings for different welding workflows. For example, position three is ideal for low current and stable arc welding.
On the other hand, position five has the highest sensitive setting for passive welding.
Battery Life
The extended battery life is another best bait of the 3M Welding Helmet. The total battery life of this helmet is 2000 hours. Besides, you can find and replace Cr2030 3V lithium batteries effortlessly, which prolongs the helmet life.
Pros
3m-9100-speedglas-welding-helmetErgonomic design offers superior comfort and customizable fit
Large viewing area lets you see work in progress
Comfortable to wear
Offer optimum eye & face protection
Easy to use grind mode
Wrap Up
Now, you know everything about the 3m speedglas welding helmet from this review. The 3M welding helmet offers optimum face & eye protection while ensures superior welding results.
The ergonomic design of it provides ultimate comfort and fits with your head.
Therefore, its large viewing area with an auto-darkening filter allows you to see every detail of your welding workflow. So, you don't need to be worried about welding precision.
Indeed, this 3M Welding Helmet will be your best pick for ensuring safety and comfortability.
However, if you are on a budget, then you may find an alternative. But it will save your buck in the long run as it is durable.
Last update on 2023-09-01 / Affiliate links / Images from Amazon Product Advertising API