Disclosure: As an Amazon Associate We earn from qualifying purchases.
The Swedish brand ESAB is known across the industry to produce high-quality welding supplies for quite some time now. Their welding helmets are of no exception. They are always on the cutting edge of welding technology ensuring that every product they release to the public is proven safe, comfortable, and has functionality that's going to benefit the user greatly. Before we start the esab sentinel a50 review, let's have a quick look what will we cover in this article?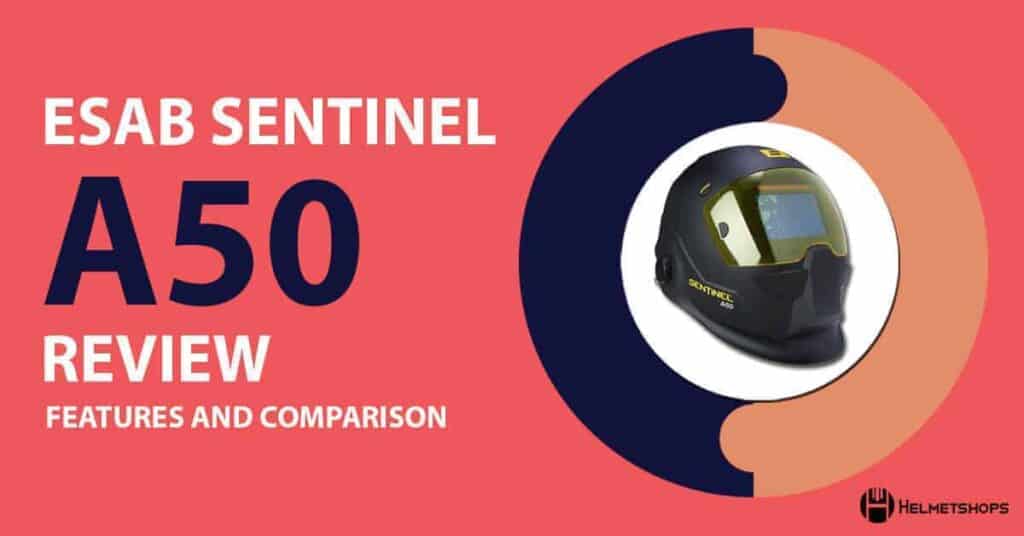 In this article, we will discuss in great detail the features, pros, and cons of the highly regarded ESAB Sentinel A50 and see if this is just the welding helmet that you've been looking for.
[toc]
In A Rush? Take A Quick Look!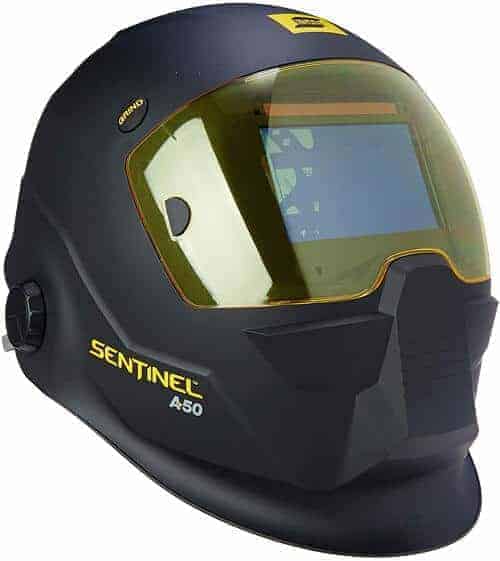 Esab Sentinel A50
Why Esab Sentinel A50 Is Better Than Others?
High-quality and accurate auto-darkening
Multiple presets
One-touch button switching of shades
Let's Discuss The Features!
So why choose this ESAB Sentinel A50 welding? And who is it best suited for? Let's discuss its exciting features.
Lens and Optical Clarity
Optical clarity is a major of this headgear. Naturally, if a welding helmet has an optical class rating of 1/1/1/2 like Yeswelder helmet, then you're sure that what you're getting is top-notch lens quality and vision like no other.
First up, the true color lenses infused on this helmet has an auto-darkening system that works to make sure you get just the right brightness or light through and as if nothing is going in between you and the subject.
Very little to no distortion that means you get the best level of accuracy in terms of vision. Pure glass is not that prone to scratches and excellent diffusion of light. The helmet also has superb luminous transmittance variation which makes sure that you get the right shade all the time.
Angle dependence needs a bit of an upgrade but other than that this is one superb helmet in terms of visual clarity.
Viewing Area and Shading Configurations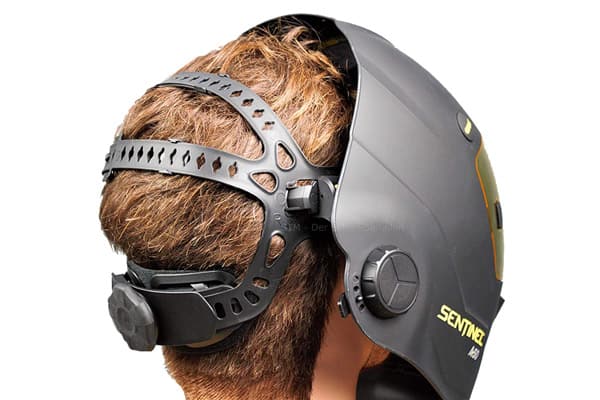 Its intuitive control provides a range of shade options which is helpful for adjusting the shade range. The 8 memory presets will allow you to change your settings with one-touch and if you're in the middle of your work that would definitely come in handy. The shade 4 grinding selectors will prove valuable in your work switching from one mode to another fast and easy.
This headgear has got sensitive sensors and a delay control feature that would give your vision time to adjust after working on an arc. The lens of this welding helmet is also very easy to replace.
Comfort and Construction
Impressed so far? Well, get ready to be wowed some more. The optical clarity is not the only aspect this helmet is known for but it is also one of the most comfortable welding helmets to wear that doesn't compromise quality. It is quite famous as a comfortable headgear to the welders due to its well headgear design.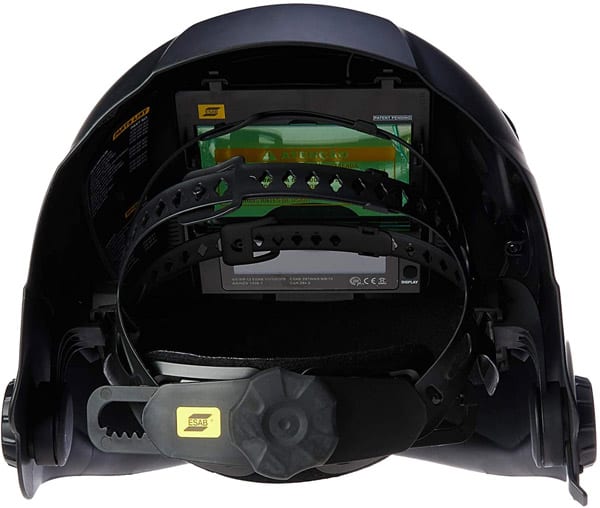 It is made with a revolutionary shell technology. The high-impact nylon the face shield is made of offers resistance and durability that's up to par to high-end and more expensive helmets available. The Halo headgear is also very ergonomic. The 5 point adjustment provides the ultimate comfort and balance you need when you use it. This lightweight welding helmet is designed to be used all day long offering superior comfort level.
Helmet Weight: It is only 1.4 pounds (0.64 kg).  
The central pivot point allows for a decent space for head clearance. And it has a hard hat adapter to boot.
Bottom line, if you're the type of person who does not compromise in their gear and hopes to invest in long-lasting equipment than buying one now and then, then the ESAB Sentinel A50 helmet is what you've been looking for.
Top-quality, great visual clarity, comfortable, easy to use and has lots of functionalities.
Pros
The most comfortable welding helmet you can find
Surprisingly lightweight
Durable construction
Convenient LCD screen
Cons
The lens may warp in extreme heat prematurely
It can be a bit expensive for most people
ESAB Sentinel Problems
As with all products, the ESAB Sentinel A50 has a few weaknesses to address. Actually, there are just two things that we want to point just so you know what you're getting into before you decide to make a purchase.
First, the LCD screen may not be very glove-friendly. Although it's adjustable but adjusting it with the one-touch button may prove to be a bit challenging if you have gloves on. Not a major gripe really but it could use a bit of upgrade.
Secondly, it does not have the true color view of the crystal lens technology. However, having this kind of technical standard can be hardly found at this price range.
Lastly, is that the lens tends to get distorted a bit when you move around while working. But no worries as it is something that can definitely get used to. By far, the positives outweigh the negatives by a long mile.
ESAB Sentinel A50 vs Optrel
In terms of pricing, the ESAB Sentinel A50 and Optrel VegaView 2.5 are in a similar category. But the VegaView falls short in shading range and is a few features short compared to the ESAB Sentinel A50.
Both auto-darkening welding helmets are somewhat equal in terms of lens quality but comfort and ease of use wise plus construction the ESAB Sentinel A50 takes the prize.
ESAB Sentinel A50 vs Speedglas
The ESAB Sentinel A50 in all honesty will give the 3M Speedglas a run for its money. There's really nothing special that the more expensive 3M Speedglas can do that the ESAB Sentinel A50 can.
They are both comfortable and have a good viewing area. Top of the line auto-darkening technology and accurate shading sensors. Plus versatility that's unlike any cheaper helmets or passive welding helmets at that.
If there is one tiny detail though that we would say that the 3M Speedglas is better than the ESAB Sentinel A50 is that the former's knob can be easily adjusted even with gloves on. That's it. They are both really effective face and eye protection gears but the 3M Speedglas costs more than double.
What Are Auto-Darkening Helmets?
Auto-darkening helmets are the most advanced welding helmets available to date. They are light reactive, which means it will let you see clearly all the time by adjusting the amount of light it lets in through the lens.
When in in-active mode the lens of auto-darkening welding helmets is in 3 to 4 shade. It's obviously a better deal than the fixed shade helmets. When it detects an arc then it switches to shade 8 to 13 depending on what the sensor deems necessary. Obviously, auto-darkening welding helmets have an edge over passive welding helmets but of course, they are also a bit more expensive. It comes with a one- year warranty.
So know what you need and invest whenever necessary. To be honest, we highly recommend auto-darkening helmets as they may also have a positive impact on your eye health.
Wrap Up!
There's no doubt in our minds that the ESAB Sentinel A50 is one of the best welding helmets that you can buy to date. You're going to wear it all day long so comfort should be on top of your list. Second, it has got one of the best sensors, lens quality, and ease of adjustments for the price point and it is quite durable.
This should be a pretty good investment, so if I were you, I'd go order one now! It is an excellent choice indeed.