Disclosure: As an Amazon Associate We earn from qualifying purchases.
A great quality riding helmet doesn't have to be expensive. But let's face it – looking for an affordable helmet that's also of premium quality isn't easy. And that is the reason why a lot of riders shy away from buying inexpensive helmets.
That's why we were so happy to come across this Helmet. This half helmet seems to have it all: durable construction, comfortable lining, excellent fitting, sun protection, and sleek designs. And the best part? Buying one won't drill a hole in your pockets.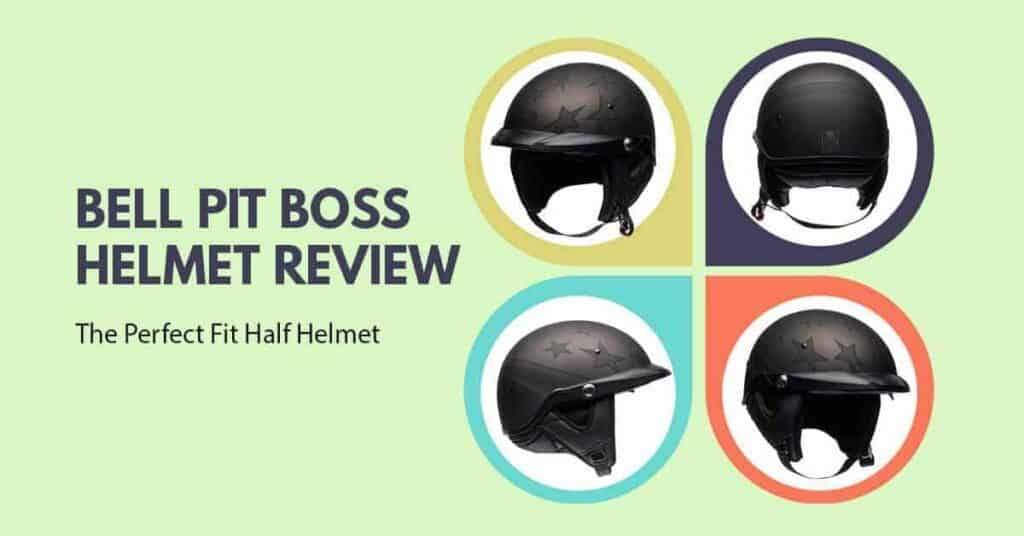 Because we were instantly captivated by its claims, we wanted to put it to the test. And that is why we wrote this Bell Pit Boss Helmet Review just for you.
Features
Carbon Composite Shell
Whenever you're buying a quality helmet, the first thing you always look into is the materials used for its outer shell. It has to be resilient enough to withstand the force of the impact, yet also durable enough to prevent it from falling into pieces. Knowing that the materials will be able to protect you from a strong impact will surely give you peace of mind and allow yourself to enjoy the ride.
Fortunately, this model of Bell helmet uses a carbon composite shell that's made from carbon, Kevlar, and fiberglass. These materials work together to provide you a premium helmet shell that can effectively reduce the impact.
At just a little over 3 pounds (1.36 kg), this half helmet provides you with excellent skull protection without being too heavy on your neck. And this definitely allows you to ride comfortably for hours.
Hygienic Lining
Another feature we love about this half helmet is its hygienic lining.
When you're wearing a helmet, it's inevitable for it to absorb your sweat. As a result, some helmets end up smelling bad and feeling sticky, especially after a long ride under the sun.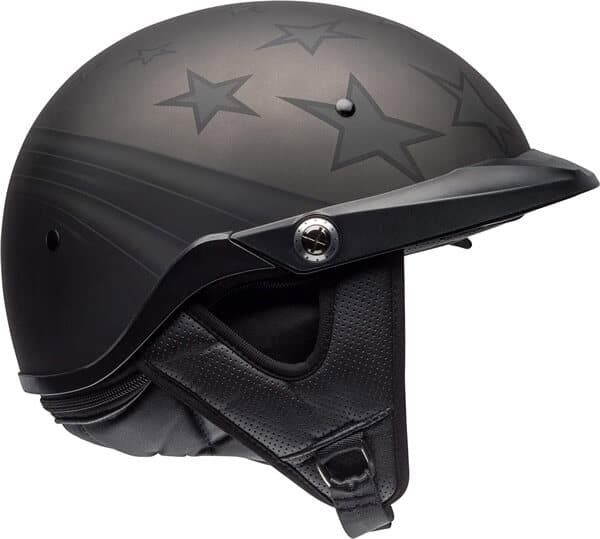 Fortunately, the lining on this helmet has antimicrobial and antibacterial properties that provide excellent odor control. This will keep you fresh and clean even if you've been riding under the heat of the sun. On the other hand, you also have a sun visor to get rid of the sun. 
Since the lining is made of microfiber material, you shouldn't worry about feeling sticky, either. This material is known for excellent moisture absorption, and this leaves you feeling comfortable throughout the ride.
Aside from its hygienic properties, we also love that the lining offers great cushioning and shock-absorption. This dampens the impact, so you know your head is protected.
Adjustable Fit
When it comes to looking for the best helmet for you, the search for the best-fitting one is the trickiest. It's so frustrating when you think you've found the helmet that has the most reliable shell with the best lining, only to find that it wobbles on top of your head when you make the slightest movement. And as a result, you're back to square one.
A great helmet should provide you with a comfortable fit. This is the only way you're assured that your skull is properly protected. If it's too loose, you risk having it fall off during your ride. And if it's too tight, it could cause much discomfort, especially to your ears. You certainly don't want either of that.
We often look for the sizes for most of the half helmets. To guarantee the best fit, this half helmet comes in a variety of sizes, ranging from extra small to triple-extra large. It also comes with the innovative speed dial technology that helps guarantee an optimal fit for each rider.The speed dial feature will give you some extra comfort then other helmets. 
This dial is easily accessible at the bottom of the helmet, so you don't have to take it off just to make adjustments – and that's really convenient. Besides, you have the chin strap to adjust the helmet into your head.
Excellent Protection
Finally, we love the additional protective features on this helmet. Aside from its main function of protecting your skull from impact from all directions, this helmet has more to offer.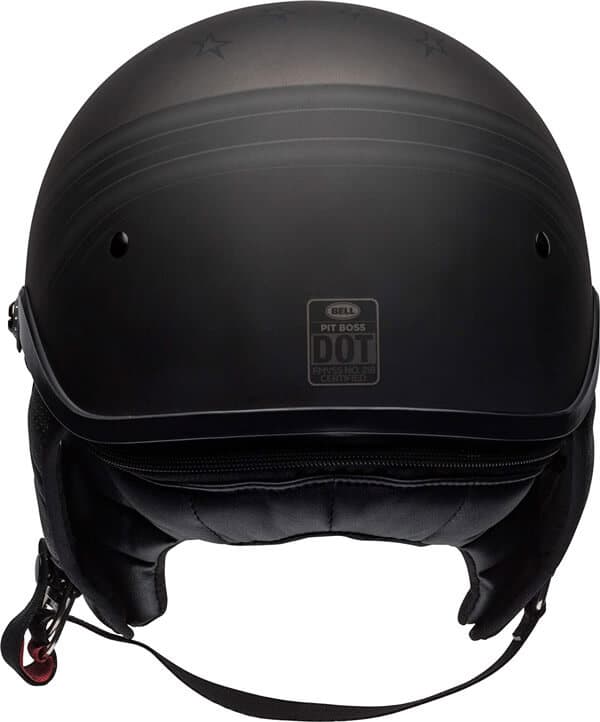 It has an internal sun shield that helps keep your eyes protected from the harmful rays of the sun. Thus, you don't have to worry about forgetting your sun glasses at home.
We also love that this drop down sun visor has two positions. This sun shade allows you to use it depending on where the sun is so that it wouldn't hurt your eyes.
And since we're talking about protection, you'd be pleased to know that it comes with a convenient neck curtain to keep bugs from crawling under the helmet and to keep you warm during the colder seasons. The removable neck curtain gives you the liberty, so you can opt to use it whenever you want.
We were also very impressed that the  Pit Boss Helmet meets both the CARB and FMVSS standards. This gives you even more assurance of the quality that this helmet offers. And for the price, this is a purchase you will never regret.
Pros
Sturdy construction.
Premium materials.
Lightweight and comfortable.
Easily adjustable.
Has sun protection.
Excellent noise reduction.
Has integrated speaker pockets.
Great value for the money.
Comes with a 5-year warranty.
Cons
The fit may be too tight for people wearing prescription glasses.
FAQ:
How do you change the visor on the Bell Pit Boss Helmet?
The internal visor on this Helmet is easily replaceable. Simply unscrew the bolts found on the sides of the helmet and remove the internal sun visor. Once the old visor is out, simply prop the new one in its place and screw it back in place.
Is the Bell Pit Boss Helmet expensive?
No. While this helmet is not the cheapest in the market, the Helmet is not expensive at all. The brand is known for producing high-quality yet affordable helmets, so you're also assured of its quality. If anything, we believe that the Bell Pit Boss Helmet offers the best value for the money.
Let's Watch A Video Of Bell Pit Boss Helmet Review
Wrap Up
The Pit Boss Helmet is undoubtedly one of the best affordable helmets in the market from Bell helmet.
We were already impressed that it is built with premium carbon composite material, so the fact that it has antimicrobial lining raised the bar higher. Both of these features already guarantee that it's as tough as high-quality helmets, yet still comfortable enough for long-range riding.
It also comes with fun designs that make you look stylish on the road. But even if you're not a fan of prints or patterns, you can opt for the minimalist plain black helmet – since you can choose from a variety of finishes. Whether you prefer a glossy helmet or a matte one, there's the perfect finish for you.
We also love that it has great noise reduction capabilities. This keeps you from being distracted from wind and other roadside noise, so you can stay focused on your riding. We have the reviews for the users, and they are really happy to have such great helmet. 
Overall, this review will end on a positive note. If you prefer half helmets then this helmet surely is The Boss.