Disclosure: As an Amazon Associate We earn from qualifying purchases.
If you see half of the people opting for something modern, there will be the other half that goes crazy over retro essence. And for the bikers, one of the most trendy styles that have become an in thing nowadays is the full face retro helmets.  You may have used a lot of helmets in your biking carrier. Honestly, You will love to have a helmet from Biltwell in your showcase, if you are a helmet lover! Before buying the motorcycle helmet, I would request you, just read the biltwell gringo helmet review, I hope you will have the answer, why I said it is a must motorcycle helmet to have?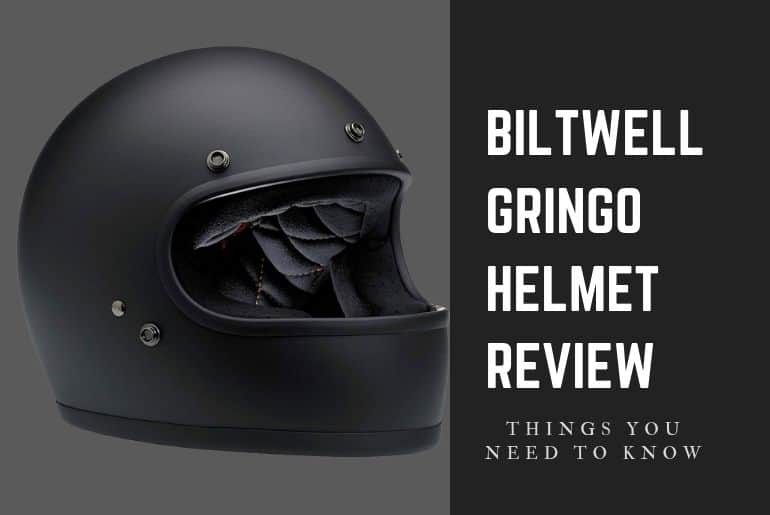 And whenever we talk about such hoods, one name will definitely come to our mind which is: THE BILTWELL. This brand is full of retro cool helmets. And there is no doubt that such style is literally enough to draw your attention.
So, if you think you need to get yourself one, but you aren't sure if you should have one, then this review will help you out.
We have tried to highlight both pluses and minuses of this particular model from Biltwell so that it gets easier for you to decide yoursel
[toc]
In A Rush? Take A Quick Look!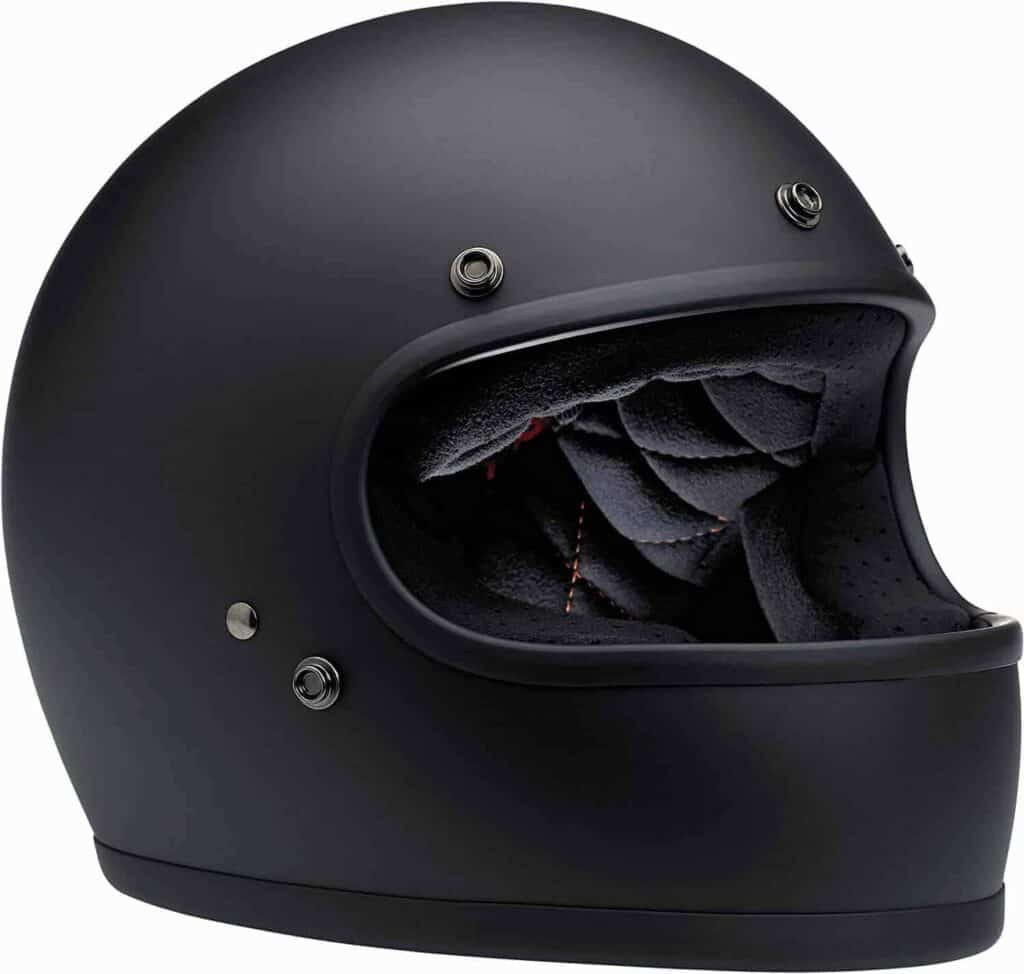 Biltwell Gringo Helmet
Why this is better than others?
Full Face
Internal Foam Chin Pad.
Only 3 Pounds
Specifications Of The Motorcycle Helmet
Outer shell made up of ABS material.
Expanded polystyrene inner-shell.
Injection-Molded abs outer-shell.
Neutral head shape.
Five snaps surrounding the gringo's eye port.
Contrasting diamond-stitched quilted padding.
Hand-Stitched detachable brushed Lycra liner.
Comes with dot safety standards.
Double-D ring fastener with a flexible snap end retainer.
Features Of Biltwell Gringo
Appearance
The helmet is an absolute charmer since it can enchant you to buy it for its retro look. While Biltwell have designed a number of helmets with different muted colors, they have made Gringo available mostly in achromatic colors. In short, you will get the model in 5 color schemes.
Not just that, the brand have also made versions with gloss black and with simply matte. So, you can pick anyone that matches your preference.
Ventilation
The helmet has been considered to be a very big NO for using in summer as there are no vents. Albeit it does let a lot of air flow through the open face.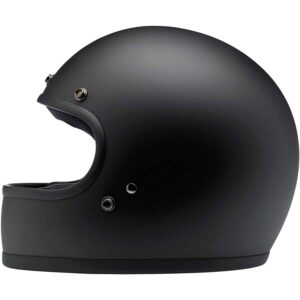 So it will not get extremely hot, but that is only if you don't have the visor on. Otherwise, you might hate its poor ventilation feature.
That said, there is no reason to despise the helmet since there are ways anyway to use it with some airing as well.
There are some best vented helmets out there in market. Have a look on them.
Comfort And Convenience
Having it designed to fit most of the heads, the helmet has been shaped a little rounder for the fitment. However, if you are still not sure about the sizing, then we suggest you to give a trial at first before making a purchase.
This is a hand stitched comfort liner that you can remove it as well for washing so that it can give you a very fresh vibe! On the other hand, the chin bar of the helmet gives you the space to breath.
When it comes to its weight, it just comes in 3 pounds which feels rather light. And this is one of the biggest comforting factors that you can get from the hood.
Safety
The shell of the helmet have been made up of ABS. It is stated to be a kind of thermoplastic material that is commonly used in a lot of hoods.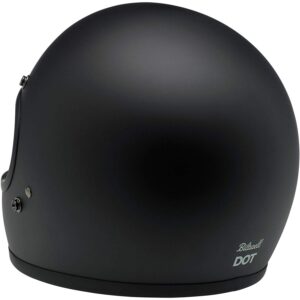 To assure the safety, Biltwell have DOT certified the helmet to make it usable on roads. But that's just great for the roads in the United States. Since the brand opted to stop right there after having it passed DOT tests, Gringo has no safety offer to warrant anymore.
Not just that, DOT certification does not also cover chin bar impact test. That said, the good thing is that the hood does meet minimum standards to absorb the shock of an impact and to resist impact penetration. So, the certified sticker does make sure that the helmet is able to protect your head from accidents.
Speaking more of shock absorbency, you will get an EPS inner shell that helps reduce the impact smoothly for your safety. You hardly find this shock absorbing EPS system on other helmets.
You will also find a Double D ring fastener so that you can fasten the helmet and keep it fixed to your head snugly.
However, there are some users who have felt the face piece thin that failed to give much protection that you need. So, there are chances that you may face the same.
Noise
The helmet certainly does not ensure anything about the noise reduction of the helmet. So it is expected to get you some additional noises. Besides, if you use visor and keep it up, it will whistle loudly while you are on your ride.
If you really want to get rid of such pain, then you can get yourself some earplugs for the ride so that you can keep noise issues at bay.
Visor
It's more like a visor-less helmet so yeah there is no visor attached to the hood. But there are five snaps that you will find around the hood's eye port so that you can install one easily. Basically, you will get two kinds to snap when it comes to Gringo, one is blast shield and the other is Biltwell bubble shield. But too sad that they are sold separately, so you have to spend some extra bucks. Or, you can wear goggles if you want.
Let's Watch A Video On Biltwell Gringo
Wrap Up
So when it comes to looks and performance, Gringo has managed to impress the majority of the bikers with its charm. It has nailed the retro look and also has been built to a higher standard. While the outer shell looks solid and durable, the inner side feels soft and comfortable due to its foam padding. And as you can remove the inner fabric, you can wash to keep it fresh for longer.
Albeit some drawbacks can push you back to go for it, but they are pretty minor enough to be forgiven. Having said that, if you really want to have a helmet that has both looks and performance, you can definitely try out the helmet. Hope you enjoy our review!