Disclosure: As an Amazon Associate We earn from qualifying purchases.
Every welder needs a helmet. If you don't want to use one, you should know that the consequences are quite dire. Welding flames can ruin your eyesight. Some people say that it feels like hot sand in your eyes.
The pain is truly intense. That doesn't even take into account the damage the sparks and debris can do. This is the reason why welding helmets are so important. The right helmet will protect your entire face from harm, especially if you have the best welding hood on the market, such as Lincoln or even Miller.
You cannot go wrong with either brand. Though, a lot of people don't know how to choose between the two. They both have strengths and weaknesses. The only way to select the best one is to determine how well those strengths and weaknesses compare against one another.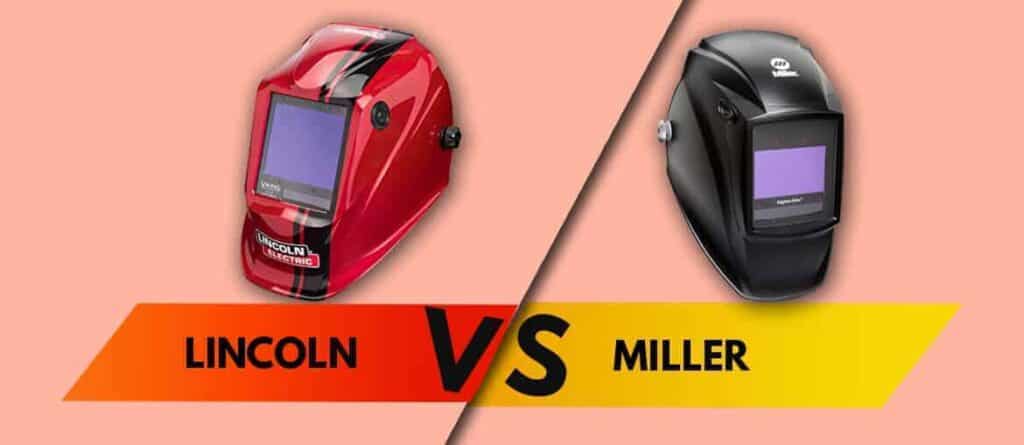 Lincoln Viking
The Lincoln Viking 3350 is a sleek helmet with great visibility and a safe and secure design. It has an interesting mix of pros and cons that make it a standout on the market.
(+) Positives For Lincoln
The Viking is cost-effective. People love it because, in many cases, it is cheaper than its Miller counterpart.
At 3.74 x 3.34, you can look forward to a wider viewing angle. It will also please you to learn that the helmet uses a standard-sized extra lens. This is a good thing because it means that you can find it in any store that sells welding gear.
The helmet is compatible with all operations. Some people have argued that Miller's Digital Elite helmet is better for overhead welding. However, you can also use the Lincoln Viking helmet if the need arises. It is versatile enough to accommodate the needs of any operation you can imagine.
The controls are straightforward. You can switch between modes quickly and easily.
(-) Negatives For Lincoln
At three pounds, the Lincoln helmet is heavy. This is one of the helmet's most problematic attributes.
It doesn't offer any protection against humidity or splashes, which is why you are discouraged from using it in wet locations.
The exterior is sleek and shiny. This makes the helmet attractive. However, that exterior scratches easily.
Miller Digital Elite
The Miller Digital Elite is a lightweight and clear helmet that uses patented technology to enhance your visibility. It is renowned for its wide array of features and attributes.
(+) Positives For Miller
You can use the helmet for an impressive 3000 hours because of the solar assist lithium batteries. This allows you to work for long periods without interruption.
You have probably heard about the X-Mode technology. Some people think that it simply prevents interference from sunlight. But it is far more powerful. By detecting the welding arc's electromagnetic field, it can reliably protect your eyes from any flashes produced by the welding process even if the sensors fail to detect them. In other words, you never have to worry about being flashed.
The buttons are large. They are part of an intuitive control panel that simplifies the process of making adjustments.
The helmet wasn't designed for welding alone. You can also use it for other activities that produce harmful debris such as cutting and grinding.
Clear Light technology guarantees a detailed view of your work.
(-) Negatives For Miller
While the Lincoln Viking Helmet uses a standard-sized extra lens, Miller features a custom-built lens that is difficult to find. In other words, you can't just change the lenses.
The fact that the lenses are difficult to replace is a problem because they are delicate. It doesn't take much to break them.
Welders that are working in open angles have a difficult time adjusting the front panel.
Lincoln VS Miller Welding Helmets
Miller's biggest advantage is the X-Mode. By taking note of the EM Field around the welding arc, it can offer efficient protection for your eyes. That being said, a lot of people are bound to flock towards Lincoln.
For one thing, the helmet is cheaper. Admittedly, the difference in price is so small in some situations that it is negligible. However, it is also worth noting that the helmets have a lot in common with one another. For instance:
They both use four sensors
They are compatible with a variety of welding operations.
Because they have impressive grinding modes, both helmets are suitable for grinding operations.
They both have battery and solar power input systems.
Even though one is relatively heavy, they are both ergonomic and comfortable.
They both feature a magnifying glass.
Because the helmets have so much in common, even a small difference in their price tags can sway a welder to choose Lincoln over Miller. You can't ignore the fact that Lincon's extra lens is easy to acquire whereas Miller uses a set that the majority of hardware stores do not stock.
With that in mind, you can probably see why Lincoln is the clear winner. Though, no one would fault you for choosing Miller because of the X-Mode. The objective of a welding helmet is to protect your eyes.
And it makes all the sense in the world to spend your money on a helmet that can offer continuous protection from sudden flashes.
Wrap Up
There are so many factors to consider when selecting a welding helmet. You have to look for auto-darkening features that can automatically block the glare produced by the welding process.
You should also take into account the shade variability, the size of the viewing area, the clarity of the lens, and the durability, not to mention the presence of grind mode.
However, those considerations don't matter where Lincoln and Miller are concerned. They are among the best helmets on the market. As such, you can trust that they tick all the right boxes.
The question of Lincoln VS Miller Welding Helmets comes down to preference. Yes, Lincoln is heavy and Miller has a lens set that is somewhat difficult to replace. However, those weaknesses are more of an inconvenience than anything else. Even with their respective failings, both models are more than capable of meeting and exceeding your expectations.
If you must choose between them, try to match your needs to the attributes of each model. For instance, if you prefer a lighter helmet, you will probably gravitate towards Miller. If you want a helmet whose individual components are easy to replace, you might as well choose the Lincoln model. Let your needs guide you.