Disclosure: As an Amazon Associate We earn from qualifying purchases.
We can't stress out the importance of wearing helmets while working on a welding project. It not only protects your eyes and faces from the flying sparks, but it also helps you see what you're working on more clearly.
Thanks to modern technology, today's welding helmets come with improved features to help us work more accurately. One such feature is the Grind Mode.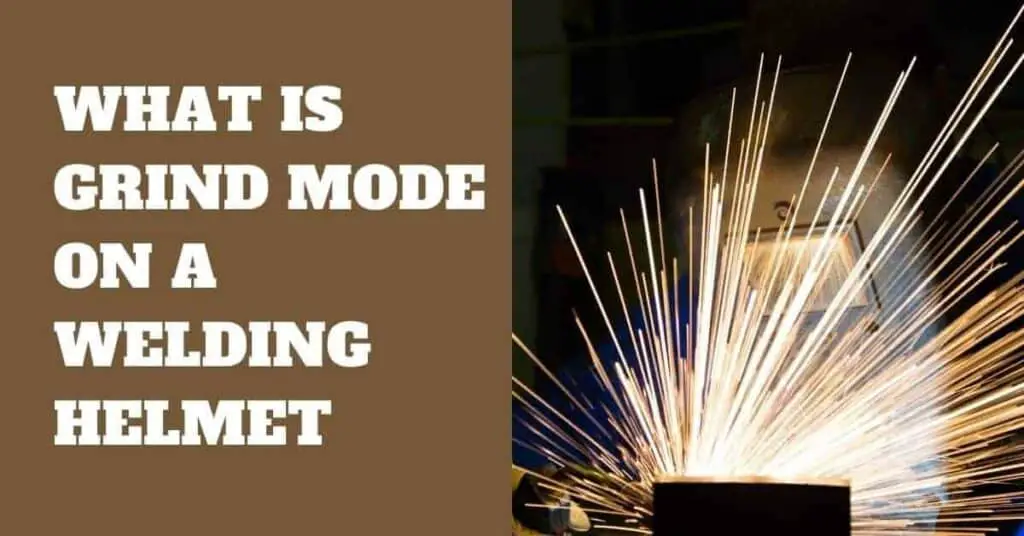 If you're new to the welding business, the first question that pops into your head is: what is grind mode on a welding helmet? Lucky for you, this article is all about this feature.
And for added information, we have also gathered some of the helmets that offer the best Grind Mode feature. So if you're interested, continue reading to know more.  
What is Grind Mode on a Welding Helmet?
All welders know the struggle when it comes to grinding. In welding, this process can be the most laborious and time-consuming. But if you're patient enough, you know that this results in seamless and high-quality metalwork.
But because of the process by which you smoothen out the rough edges, you will be exposed to sparks that can be too much for an ordinary helmet to protect you from. Traditionally, you have to stop working and change into a different grinding helmet or wear extra protective eyewear.
That's where the Grind Mode comes in. Most of today's newer helmets have the built-in Grind Mode feature that allows you to switch to improved protection against grinding with the push of a button. Nevertheless, this varies from model to model – but the fact remains that you don't have to switch between helmets for that extra level of protection.
This makes working more continuous and convenient, so you can get the job done faster.
Why do I Need Grind Mode?
With that in mind, you might be curious as to why you would want a helmet that has the Grind Mode feature. Let us lay it down for you.
First of all, the Grind Mode protects your eyes when you're in the process of grinding. When this is turned on, the helmet is prepared for whatever impact comes your way throughout the process. This leaves you feeling confident, knowing that you won't get hurt while grinding.
Second, it allows you to work more efficiently. The struggle with grinding is that all the sparks can get in the way of your vision. This makes it harder to stay focused on what you're working on. When the Grind Mode is activated, the lens adjusts to the light and welding environment, so you can see with vivid clarity. And that makes working much easier.
And speaking of easier, the third advantage is the convenience brought by this built-in feature. Since you don't have to switch between helmets or wear extra eye protection, you can start grinding as soon as you activate the Grind Mode. This saves you a lot of time in the long run, and that allows you to work on more projects with ease.
Top Helmets with Grind Mode
Miller 281000 Digital Elite Black Welding Helmet
When it comes to top-tier welding helmets with Grind mode, the Miller 281000 Digital Elite Black Welding Helmet is the first one that comes into mind.
Aside from the Grind Mode, this helmet also comes with three other modes to make it easier to work on your projects. It also has the renowned ClearLight Lens Technology that allows you to see what you're working on with unparalleled clarity. This makes it easier to work on intricate details, even in low-light scenarios.
Also, switching between modes can be done by pushing a button, so you know it's convenient.
Miller 281000 Digital Elite Auto-Darkening Welding Helmet, Clearlight 2.0, Black
AUTO-DARKENING WELDING HELMET: The Digital Elite welding helmet is the perfect protective welding gear for beginner and experienced welders. This industry-leading hard helmet has a 9.22-square-inch viewing area for efficient work performance.
HIGH-QUALITY WELDING HOOD: Our ergonomic welding helmet weighs 18 oz. and features ClearLight 2.0 lens technology that optimizes contrast and clarity for a lighter light state. This design lets you keep the helmet down while you're not welding, maximizing safety and productivity.
VERSATILE WELDING MASK: This welding helmet offers weld shades 8–13 and cutting shades 5–8 and a switching speed of 1/20,000th of a second. It features four modes: weld, cut, grind and X-Mode. X-Mode electromagnetically senses the weld to stop sunlight interference and detect the arc, even if the sensors are blocked.
CUSTOMIZABLE WELDING GEAR: The included ergonomic Gen 3.5 headgear has a comfort cushion and extensive adjustability settings for enhanced support. The intuitive design offers large push buttons so you can easily adjust the mode and settings.
EASY-USE WELDING EQUIPMENT: This helmet has digital controls that adjust shade, delay and sensitivity. It features an AutoSense button that lets you automatically set the helmet sensitivity for your environment. Our helmet meets ANSI Z87.1+, CSA and CE standards.
Lincoln Electric K3419-1 Glossy VAR 7-13 W/Grind ADF Helmet
Admittedly, the Miller Digital Elite can be quite pricey. An affordable alternative would be the Lincoln Electric K3419-1 Glossy VAR 7-13 W/Grind ADF Helmet.
This lightweight helmet only weighs 1.5 pounds, making it extra comfortable to wear. It also has a sweatband that keeps sweat away from your eyes, allowing you to focus on your work better.
The Lincoln Electric K3419-1 Glossy VAR 7-13 W/Grind ADF Helmet is built with impact-resistant lenses, so you know your eyes are well-protected. This feature also ensures its longevity, so you know you're getting your money's worth.
Lincoln Electric K3419-1 Glossy VAR 7-13 W/Grind ADF Helmet, Capacity, Volume, Polycarbonate, 11.12 x 10.25 x 11.87, Black (
Adjustable ratchet head band to custom fit your head and absorbent
Oversize sweatband for improved comfort
Processes stick, tig, pulsed tig, mig, pulsed mig, flux-cored, gouging
Lightweight helmet makes for ease of use
Ironton Variable-Shade Auto-Darkening Welding Helmet with Grind Mode
And for those who are looking for a high-quality yet affordable welding helmet, then you'll love the Ironton Variable-Shade Auto-Darkening Welding Helmet with Grind Mode.
This helmet comes with the Auto-Darkening feature that makes it easy for you to work on a variety of welding jobs. For added versatility, it also has the Grind Mode that makes you do finishing work without the need for a new helmet.
It has a large viewing area that allows you to see what you're working on, so you don't have to miss out on details.  
Thanks to its affordable price, we believe it's best for welders who are looking for an entry-level yet budget-friendly helmet. But despite being affordable, it provides us with features that can be at par with more expensive units.
Miller T94i Welding Helmet
If you're interested in these helmets, here are some of the best in the market that you might want to consider.
Last but not the least, Miller t49i auto-darkening welding helmet is undisputedly the best one in this genre. The helmet is equipped with 4 grind modes.
As we know that quality comes with a price, this helmet is ANSI certified. It weighs only 3 pounds while having enormous battery life which is about 1500 hours.
The silver color NYLON helmet is equipped with electromagnetic sensor with a switching speed of 1/20,000 seconds that provides the ultimate speed and impeccable finishing.
Welding Helmet, Auto-Darkening Type
Price For: Each Welding Helmet Light State: 3.0 Item: Welding Helmet Headgear: Ratchet Welding Helmet Material: Nylon Welding Helmet Type: Auto-Darkening Color: silver Features: 1 1/2" IPS, Slip Union Connectorson both Inlet and Discharge Ports Includes: 45 Degrees Beveled Edge Lens Shade: 8 to 13 Viewing Area: 3.74" x 1.38" Graphics: None EN379 Classification: 1/1/1/2
Standards: ANSI Z87.1-2015 Welding Helmet Color: Silver Battery Life: 1500 hr. Electromagnetic Sensor: Yes Switching Speed: 1/20, 000 sec. Power Source: Battery TIG AMP Rating: 640 ADF Controls: Digital Number of Arc Sensors: 4 Grind Mode: Yes Battery Type: 640 Country of Origin (subject to change): South Korea
FAQs
How do you activate Grind Mode on welding helmets?
Activating the Grind Mode varies from helmet to helmet. In some models, you simply have to push a button to turn it on. In other helmets, you would have to turn a knob or a similar toggle switch. Either way, activating the Grind Mode is usually done without taking the helmet off, making it more convenient for you.
Do all helmets have Grind Mode?
No. Not all helmets have the Grind Mode – especially the older models. With that said, newer welding helmets are usually equipped with this feature. But to be sure, always check with the manufacturer if they have already incorporated the Grind Mode into their new helmets.
Are welding helmets with Grind Mode expensive?
Different helmets manufacture helmets, and they offer their products at varying prices – and these prices can be at different sides of the price spectrum. Nevertheless, we believe these helmets offer great value for the money that it's hard to call them expensive. This is especially true once you factor in all the benefits you receive.
Wrap Up
Now that we've answered: what is grind mode on a welding helmet, it's now easy to see why we should be thankful for all the innovations that technology brought our way.
Thanks to this feature, we can work continuously to get the job done faster, while the special lenses make it easier to work accurately. And the fact that you can switch between modes without taking your helmet off makes the job so much easier.
With that said, it's easy to see why more professionals are opting to welding helmets with the built-in Grind Mode. So if you had second thoughts about buying one, we hope this article made you finally decide to get one.
Last update on 2023-09-02 / Affiliate links / Images from Amazon Product Advertising API