Disclosure: As an Amazon Associate We earn from qualifying purchases.
Welding is a tough job and it exposes you to a number of things. In fact, it is not only tough but also a risky task. This is why you have to make sure that you wear the right protective gear when you weld.
While you have to protect each part of your body that you expose when welding, one of the most important parts to protect is your face and eyes. Because welding releases various kinds of rays that can damage your eyes. Furthermore, it also releases heat that could damage your eyes and skin.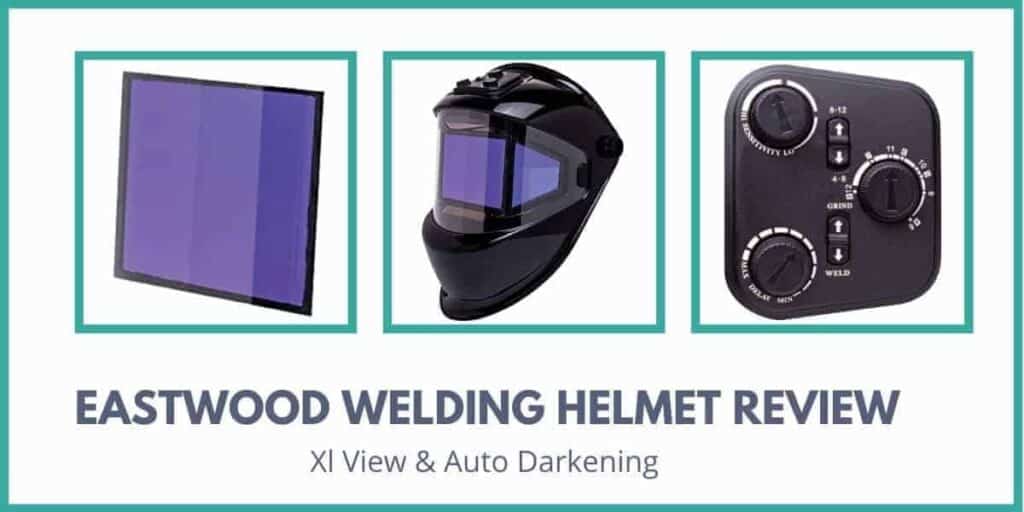 Therefore, you need a welding helmet for yourself. You must be looking for the best everywhere. One of the most renowned brands for the welding helmet is Eastwood. This Eastwood Welding helmet review will give you a clear idea about what the bran can provide.
Other than that, the buying guide will tell you about things you need to look for in welding helmets.
Eastwood L6700 Review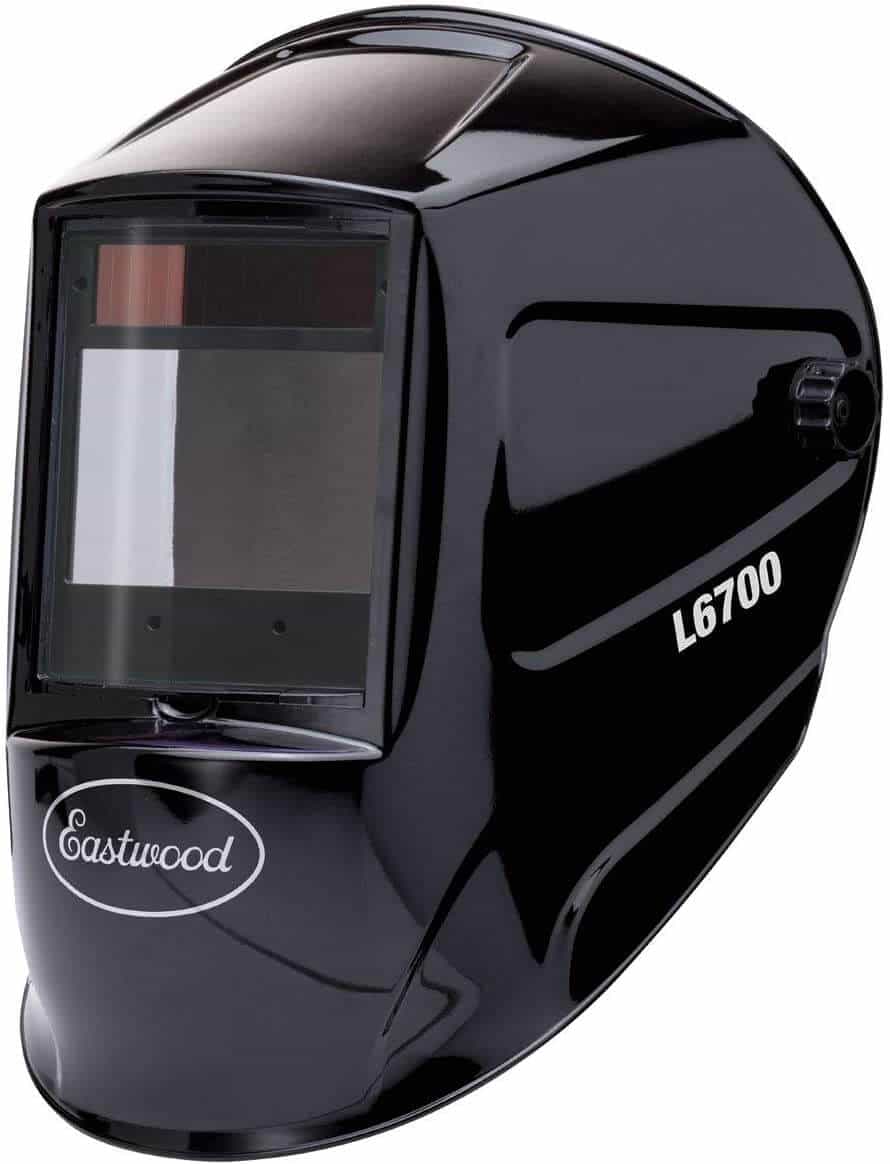 If you do grinding jobs when welding, especially tungsten, then this Eastwood L6700 auto darkening welding helmet will amaze you with the support it provides. In fact, it has a lot of features that are commendable but it also has a grind mode which works really well. Let's check out its features and how well they perform.
When it comes to color clarity, this L6700 helmet will improve your work. Because not only does it give you a clear view but it also makes it look very natural. The shade range will amaze you. In fact, it has a shade range from #4 to #13.
You can adjust it easily. It does not stop just there. You will find it quite easy to adjust the shade. On the other hand, with its auto-darkening features, you do not have to adjust anything at all when you stop an arc. Because the helmet adjusts everything itself.
When it comes to optical clarity, it gets a 1 on most but a 2 for angle dependence. This is probably the only place where the welding helmet falls a bit short. Otherwise, it gives a topnotch performance in every aspect.
Apparently, it is quite fast as well. All these features will not take away comfort from you. The helmet is quite adjustable and will fit around your head perfectly. On top of that, it is both durable and lightweight built with impact-resistant nylon.
It also has a large viewing area which will let you see everything you need to see without putting in much effort. You can also use magnifying lenses with it.
There are very few welding helmets that offer as much as this one at the price it comes. Therefore you get great value for it.
Pros
The view you get through this helmet is clear and looks natural.
It has excellent speed.
The shade range is quite broad.
It has an auto-darkening feature, and it works really well.
Quite comfortable to wear and work with because of its weight and adjustability.
It offers a lot for the price.
They are quite durable as well.
Cons
The angle dependence has a rating of two.
Eastwood XI9300 Review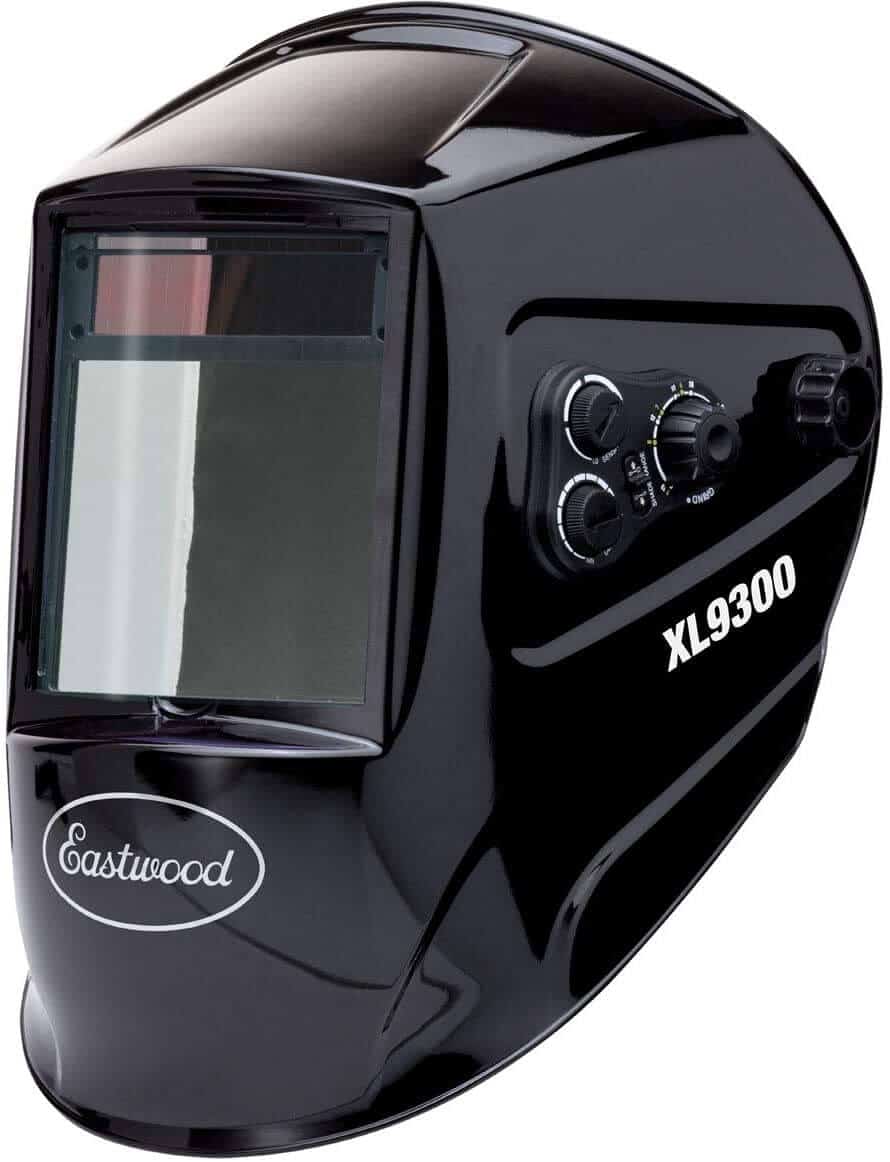 If you are looking for a helmet that will not break your bank but give you a great, clear view, then you are looking at the right one. The XI9300 keeps the Eastwood reputation and gives you a view that no one can explain the work behind. Moreover, it gives you quite a few adjustability options.
Firstly, the helmet features True Color Technology which gives you a good view of the colors you are working with. Furthermore, it makes it all look very natural. On top of that, you get variable shade range from 4- 13, just like the previous one we reviewed. You can adjust them quite easily. The problem, however, is that sometimes it does not stay accurate.
You also get a grind feature to work with which makes work easier. Furthermore, you get to control the sensitivity of this unit. As for the speed, you will be satisfied with the 1/25,000 second speed that this helmet has.
When it comes to the build, the helmet is adjustable and comfortable to wear as well. The view is large too so you are getting two things nicely. As for the durability, you may suffer a bit in this case.
Not always, but there were instances when the helmet did not live up to the mark. There were parts of it that cracked or broke. Nothing caused any harm but you cannot work with a cracked helmet.
It has an optical clarity of 1/1/1/2. As for the price, it is quite reasonable.
Pros
It gives you quite a good and clear view of your welding job.
The shade range is substantial and easy to adjust.
Quite a fast helmet with a good lens.
The view window is large enough.
It lets you adjust the sensitivity.
Quite lightweight and adjustable.
Good value for the price.
Cons
It is not the most durable welding helmet out there- parts may crack.
You may not be able to adjust it very accurately all the time.
Let's Watch A Video Review Of Eastwood XI930
Eastwood Panoramic Welding Helmet Review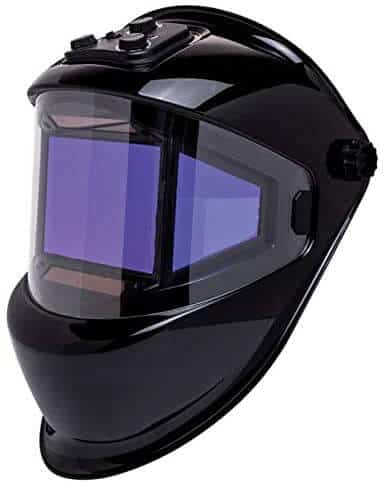 Do you want an even greater view of the work you are doing? Then, this Eastwood Panoramic auto darkening helmet may be the right choice for you. Why? Because it offers a 180-degree view. So, when you are working, you can keep an eye on most part of the work.
But, its features do not end there. You have more delights coming your way. This one, like the other Eastwood helmets, also has True Color Technology. So, you get a clear view of the colors you are working on this you can be more accurate with your work.
On top of that, you get adjustability along with the auto-darkening feature. In fact, you get a shade range of 3-12. Isn't that something? The helmet can auto-dim when you stop an arc across all three filters.
It has a speed of 1/10000 which is less than others. That is probably the only drawback of such a great welding helmet. It offers you a grind feature and it also protects your throat. Therefore, you can do a variety of welding jobs using this welding helmet.
Since it has a large viewing window, it will be heavier than others. However, with its good quality build, it is quite durable. Also, you will find it somewhat comfortable to wear because it is adjustable.
You get an optical clarity of 1/1/1/2 so there is that one last category that it does not do so well on. But, with everything else that it offers you sure can rely on this helmet. It has the Eastwood reputation and is easy on your bank and wallet.
Pros
It offers a large viewing window so that you can keep your eyes on your work well.
The optical clarity it offers is great.
It has True Color Technology in it which gives you a realistic view of the color.
The shade range is quite great.
It has an auto-darkening feature and it auto dims when an arc stops.
It features four sensors.
Quite easy to adjust.
Easy on the wallet.
Cons
A bit slower than other helmets.
A bit heavier too.
Eastwood Welding Helmet Review: Frequently Asked Questions
DO All THE REVIEWED HELMETS HAVE THE AUTO-DARKENING FEATURE?
Yes, they do and it works quite well.
WHAT IS THE POWER SOURCE FOR THE HELMETS?
They use easily available batteries to work.
WHAT IS THE LENS TECHNOLOGY USED IN THE HELMETS?
While blue and green lens technology are the usual ones used, these have True Color technology which gives a clearer view of the colors.
Eastwood Welding Helmet : The Buying Guide
What are the things welders should keep in mind when buying welding helmets? Here's a list.
The Type of Welding job you will be doing.
Are you going to be grinding? Or, are you going to do welding tasks like TIG, MIG, or pipe welding. Whichever welding tasks you usually do, you will also find a suitable welding headgear for it.
Apparently, depending on your task, you may find cheaper helmets that suit you more. In this case, the expensive ones will have nothing much to offer to you. For example, if you grind, there are helmets that offer a grinding feature and make it easier for you. However, it is going to cost more for the feature.
If you do not grind then you do not need such a feature so you can save money.
The Shade Range.
You cannot see all shades clearly through a welding helmet. But, the more you see, the better it is. You can be more accurate in the welding job you do.
The common shade range is usually between #9 to #12. You will find ranges greater than this and it will benefit you despite, maybe, a higher cost.
The Lens Switching Speed
You will benefit from a faster lens switching speed. Apparently, it means the time that the lens requires to switch from light to dark. Now, it is measured in seconds- the fewer the second, the better.
You will find lens switching speeds 1/25000- represented in fractions. Usually, 0.00004 seconds is a good speed while 0.0003 is a slow one. So, check the speed when purchasing a welding helmet. It will help you see clearly at all times.
The Optical Clarity.
When checking out welding helmets you will come across a 1/1/1/1 format of presentation. This is actually the optical clarity of the welding helmet and each of the 1 represents a certain category. Apparently, it can range from 1-3, 3 being the worst.
The first is for optical class, the second for the diffusion of light class, the third for variations of luminous transmittance class, and the fourth is for angle dependence of the third. So, welders should look for welding helmets with a 1 on each category.
The Sensors And The Power Source.
The more the number of sensors, the better. You will usually find 2-4 sensors in the welding machines.
As for the power source, you may have to choose between a battery-powered and a solar-powered welding helmet. But, a combination of the two works best.
The Size Of The Viewing Lens.
The bigger the better, don't you think? While a larger view will give a better view, it may increase the weight of the helmet. This could cause fatigue.
Again, if you want to reduce the weight with a larger view then the quality of the build will have to be compromised. Therefore, you need to make choices here. Which one do you prefer over the other?
The Auto-darkening Feature.
The auto-darkening feature is quite a useful feature. Apparently, it senses a welding arc and it can switch the level of darkness itself, automatically.
On the other hand, the passive welding helmets need you to adjust the helmet when you stop an arc. This can get annoying with time. But, if you select the auto-darkening feature, keep in mind that not all welding helmets have a great quality of it.
Look for one that is built well and functions well too.
Wrap Up
As you can see, if you are looking for a budget-friendly yet decent welding helmet then you can try out Eastwood. The brand uses clever design backed by innovation to provide you with the best experience. You may be thinking why even buy a headgear.
If you plan to do a lot of welding work in the future, it will really come handy. Because even the short term problems you face for exposing yourself to the rays of welding can be very irritating. Furthermore, they can get very serious if you do not protect yourself in the long term.
Do not be foolish and take care of your body. Especially, your eyes. You only get a pair and they are not easily replaceable. You can select among these three clear view welding helmets based on what kind of work you do.