Disclosure: As an Amazon Associate We earn from qualifying purchases.
Are you wondering what to look for whenever you are investing in a first-class helmet? When it comes to buying a helmet, the first consideration you have to factor in is whether it will protect your head if a strong impact is made. All the other factors come in second. After all, the main function of a helmet is to keep you safe.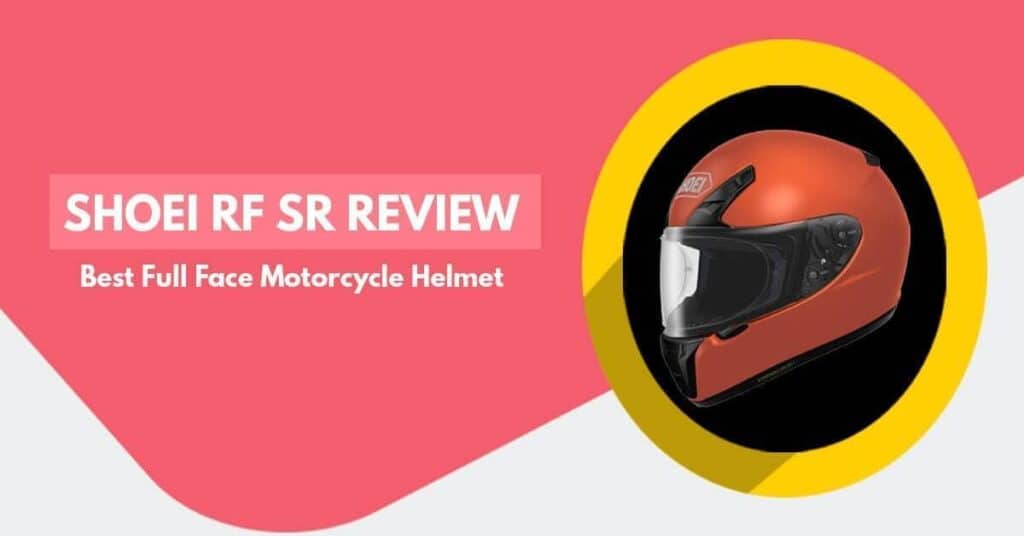 Fortunately, we came across the Shoei RF SR helmet that seems to have it all. From its durable construction to its stylish exterior and incredible comfort, we were instantly drawn to this helmet.
So we put this helmet to the test to see if it would live up to its claims. In this Shoei RF SR review, we will give you the lowdown on each feature and tell you whether it is worth the hype. Let's review Shoei RF SR full face helmet.
[toc]
In A Rush? Take A Quick Look!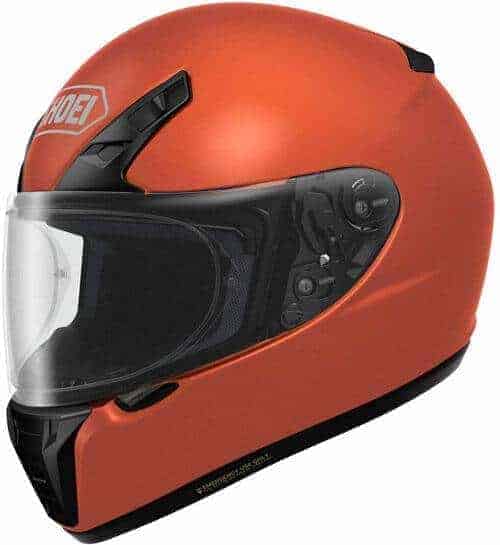 Shoei RF-SR
Why Shoei RF-SR Is Better Than Others?
Removable ear pads
Hand made
Great ventilation system
Features
Premium Construction
Are you tired of frequently buying helmets since they wear out often? If you buy this helmet, you will not have to go through the hassle of buying a new one frequently. 
Any helmet's outer shell should be made of durable material so that it won't easily fall apart upon initial impact. In this review, we are pleased to inform you that helmet meets this qualification.
It has a shell made of high-performance fiber combined with elastic organic fibers during the molding process. The incorporation of this material makes the helmet tough and resilient. This material also makes it lightweight, so you wouldn't have to worry about suffering from a neck strain after a long ride.
If you think the exterior is impressive, wait until you hear about its interior. Have you ever put on a helmet and felt suffocated? Well, those days are long gone since the Shoei helmets uses a dual-layer multi-density EPS liner to provide you with excellent cushioning. 
This cushioning facilitates a comfortable ride without feeling suffocated. The dual-layer multi-density EPS liner also offers excellent shock absorption, so you know you're fully protected.
Aerodynamic Design
We love the helmet's aerodynamic shell design. At a glance, you may think that it's just another protective helmet – but there's more to it than what meets the eye.
The helmet boasts a design that maximizes aerodynamics. Not only does it reduce a dragging feeling when you're riding, but it also helps minimize noise for a better riding experience.
This is made possible through the brand's 50 years in the industry. As the saying goes, "experience is the best teacher." The brand has learned from its experiences. It has been putting more effort into perfecting the helmet, as our review has seen. 
Each helmet also undergoes wind tunnel testing. This is a vital test in ensuring the helmet is a world-class one. The lovers of speed have their helmet needs catered for. You no longer have to worry about how your helmet holds up in case you ride at top speeds.
Impressive Ventilation
If you are looking for a helmet with impeccable ventilation, your search has come to an end. Motorcycle riders around the world are praising the helmet for its impressive ventilation. The EPS liner used for its interior is known to improve ventilation, but that's not all. The helmet comes with a breath guard.
How does the ventilation system in the helmet work? You see, this helmet has strategically-positioned vents. Now, this strategic positioning facilitates easier and more efficient air circulation within the helmet. 
The RH SR is designed with two upper air intake vents essential in ensuring you don't feel suffocated. It also has a top outlet that eases the process of hot air exiting your helmet. The insight of riders who enjoy taking rides on a hot day has informed our Shoei helmet review that it is now comfortable riding even on hot days. 
Worried about the air inside your helmet feeling stuffy? The RF-SR Helmet has a lower intake vent that allows air into your helmet, eliminating any chance of feeling stuffy. 
This vent is also responsible for keeping your exhaled breath out of the helmet to improve the mouth area's airflow. When you take a motorcycle ride in this helmet, its lower intake ventilation prevents the shield from fogging up. You, therefore, get excellent vision without it being compromised by fog.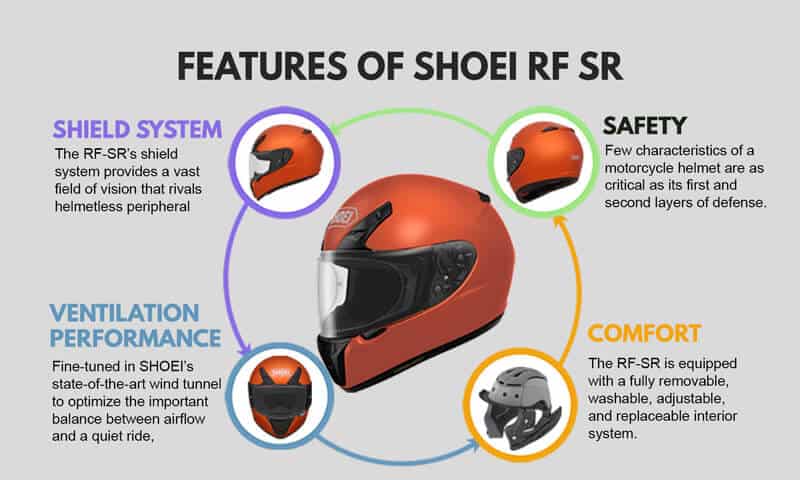 Customizable Interior
When you're out looking for a decent helmet, you should also factor in how nice it fits around your head. Bear in mind that helmets will protect you in case of a fall or an accident, so they must sit securely on your head.
Look at it from this perspective; you have a loose helmet. Upon the first impact, it flies off your head, leaving you exposed to danger in case of a second impact. If you are riding in an extremely tight helmet, your comfort will be limited. 
Wouldn't it be better to have a helmet that fits you perfectly? One that you can adjust its interior according to your size. With a customizable interior, you will not be distracted as you drive. 
Fortunately, the helmet interior comes with the customizable facility that guarantee the best fit. The inner lining, center, and cheek pads can be replaced with your choice to make sure that the helmet is snug and safely wrapped around your head shape.
Since the helmet's interior is removable, you don't have to worry about dirt anymore. Feel free to explore different terrains and ensure you clean your helmet after your adventure. 
Emergency Quick Release System
And finally, this review won't be complete without a comment on its Emergency Quick Release System.
In case of an accident, most helmets get deformed upon impact. While the wearer's head is perfectly safe, getting the helmet off can be a struggle for the paramedics. And this is why Shoei introduced their EQRS. A system that quickly release the injured rider's helmet.
This system allows paramedics to remove the cheek pads first, giving them more room to take the helmet safely. This is a great innovation that answers one of the biggest problems faced by emergency medical personnel in motorcycle accidents.
Pros
Rigid and resilient outer shell.
Lightweight and comfortable.
Easy to clean.
Customizable for the best fit.
Excellent ventilation.
Fog-resistant lens
Impressive safety system in case of emergencies.
Comes in 7 color options and 6 sizes.
Cons
Some users note that the chin straps on this helmet are hard to work with.
FAQ – SHOEI RF SR​
Is the Shoei RF-SR Helmet unisex?
Yes, the helmet comes in a variety of colors and finishes that makes it versatile enough for any wearer. It also comes in 6 sizes ranging from minimal to double extra-large, and this allows it to fit different users — whether male or female.
IS THE SHOEI RF-SR HELMET EXPENSIVE?
While this helmet is a little on the pricey side, we believe that it offers great value for the money. You also get a lot of accessories and a 5-year warranty, so you know you're getting your money's worth. Besides, it's a good price to pay for something that will keep you safe and give you peace of mind.
Wrap Up
Considering everything we've discussed in this RF-SR Review, we believe that this is a great helmet for those who want a heavy-duty helmet for their travels.
It boasts a sturdy construction thanks to its combination of high-performance and elastic fiber materials. This is paired with a comfortable and customizable lining to ensure that snug fit without compromising your safety.
The ventilation system is also worthy of praise. Not only does it keep your head cool during long drives, but it also helps with keeping the shield from fogging up.
All of these features guarantee excellent protection without sacrificing your comfort. If you're new to helmets, shoei helmets are great for the beginner. But even if you're an experienced rider, this helmet will give you excellent aerodynamics to make you enjoy the ride.