Disclosure: As an Amazon Associate We earn from qualifying purchases.
If you ask me, what is my preference for the best motorcycle helmet color for visibility? My personal preference is WHITE!
Wait, white is not my only choice. Keep reading, you will know a lot from this article.
A couple of days ago, a biker posted a question on a popular motorbike forum. He raised a question about which was the best motorcycle helmet color for visibility.
Many experienced bikers around the world participated and got involved in the debate. We talked about many issues regarding helmet color. No matter whether you wear a full face helmet or a half – face helmet. They discussed that in real life, color would reduce the risk of bikers.
Visibility is essential as no one wants to get hit even if you have got insurance. Probably, even after many days of experience, no one could agree on one color. You can always paint your helmet whichever color you want.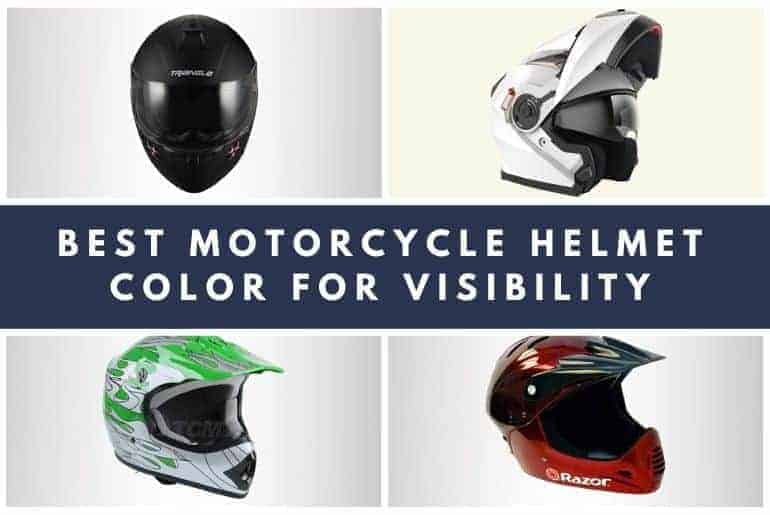 However, I was a little confused about whether my idea was correct. Anyway, after seeing many pros and cons of colors, we think we are enlightened enough to give the readers some suggestions.
If you are also concerned, read this post. Hopefully, you will find the best helmet color for your protection.
Before we proceed with the color of the helmet, we think we should let you know the importance of the motorbike helmet color. One might think that helmet color is not worthy of being a topic. We are quoting statistics from iii org.
In 2016, 5,286 people died in motorcycle crashes, up 5.1 percent from 5,029 in 2015, according to the National Highway Traffic Safety Administration (NHTSA). Motorcycle fatalities have increased for the second year in a row and are at the highest level since 2008 when 5,312 people died in motorcycle crashes.
After imposing laws for wearing helmets, a considerable number of motorcyclists wear helmets now. Still, we see frightening numbers of motorbike accidents and fatalities.
That's why visibility gets such importance. Wearing a helmet doesn't guarantee your life. So, your priority should be avoiding collisions.
Remember that the color of a little motorcycle can sometimes protect you from major accidents.
Is A White Motorcycle Helmet Safer?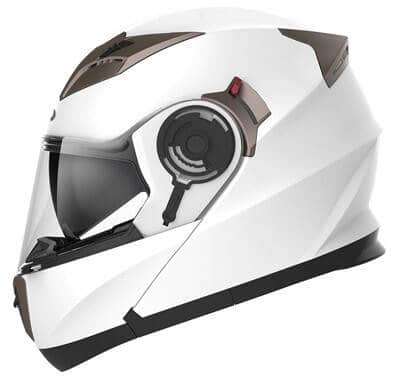 A survey found that most motorbike riders generally prefer white color when it comes to their helmet colors. 'White' is an incredibly visual color. It works fine in low light and especially at night. Be aware that the white color is very noticeable in the jungle or the dark background. For instance, when you look at the garden, you see a white color that catches your attention among the variety of colors. White also reflects all other lights. Another advantage it provides is that the white helmet will protect your head from the heat of the sun. Not just white, the Silver Color helmet also gives you almost similar benefits.
There are also some disadvantages to a white helmet. The white color often gets mixed with many things — for example, snow, old pavement, cement paint, etc.
Besides, white is popular among car drivers. While driving in the street, there is a possibility that your helmet blends with the background of the white car.
A hilarious point was told by a biker that many police officers do not like ordinary people to wear white helmets. Though, police have their own types of helmet.
Hi-Viz Helmet
Hi-viz or high visual fluorescent helmets are now available on the market. It can be an excellent alternative to the white solid color helmet.
One biker posted on the thread that the white color was the best for helmet color around until he found a hi-viz helmet.
You can buy all kinds of fluorescent high visual helmets such as yellow, orange, pink, green and so on. You have often noticed, people in construction wear yellow and green fluorescent helmets and jackets with them. Many claim that because of this color, the drivers can see them from far away.
It's hugely useful in low-light conditions. You can definitely try this helmet for visibility.
Nothing comes with all positives. Hi-viz helmets usually have a fading problem of dissipating in bright sunlight.
More Color Options
Many people think a helmet having two or more color combinations adds more visibility.
Likewise, the combination of silver, black, yellow, pink, or white might be more perceptible. Again, many think that solid colors, mainly black, are much more visual than other multicolor graphics.
Graphics and outlines usually blend with the background in a fast – pace scenario. Many bikers prefer red helmets. To them, red is the most recognizable color, especially during the day.
Also, neon colors: yellow and green are favored by many motorcyclists.
Let's Watch An Experimental Video
Extra Layers Of Safety
If you are not satisfied with the color of your helmet, we recommend you to go for other bike kits. For example, along with the helmet, change your shirt or jacket color in terms of the weather.
In addition, you can put the bike's tail lights on. Installing LED light and flashlight ensures more protection as you are completely visible.
If you love your life, don't think much about the extra cost when you change your bike's gear. When it comes to your safety, don't forget that the value of life is a lot more than money.
Wrap Up!
It is hoped that this post will help you come to a conclusion on the best motorcycle helmet color for visibility. Let us know which color you think is worthy of being your helmet's color. However, keep in mind that if a car/ truck driver or pedestrian is busy with his phone, nothing can save you, even you look like a colorful Christmas tree.
Therefore, the most important thing is to keep your eyes always open. Don't show off with your motorbike's speed. Make sure to abide by the rules. Always use a helmet and other safety gear and drive safely.