Disclosure: As an Amazon Associate We earn from qualifying purchases.
At the upper range of Shoei's product stack, the first-generation Neotec was a spectacular product. It wasn't the best on the market, but it still offered excellent safety, durability, quality, and comfort.
Neotec 2 (or II) is the updated version which has set out to improve upon the strong sides of Neotec. It's better at just about everything and is an excellent upgrade for owners of the older helmet.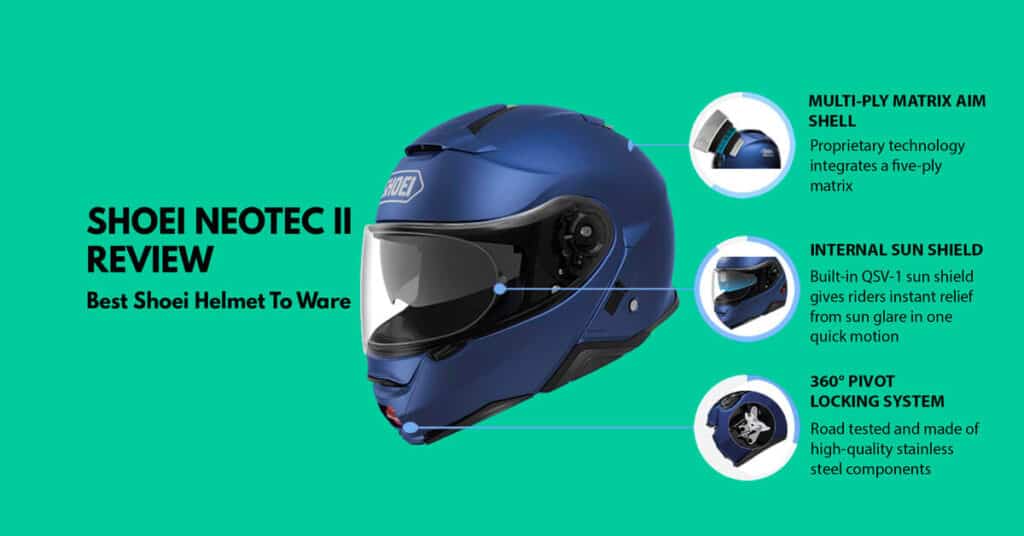 Neotec II is pretty expensive though, so is it worth upgrading to? Is it better than the previous generation? Or is it a good helmet for those who are looking for their first helmet? Find out the answers to these questions in our Shoei Neotec 2 review below!
Shoei Neotec II Review & Features
To help you determine whether this helmet is a good fit for you, let's have a deeper look intowhat it offers, as well as its downsides (which it doesn't really have, but there are a few small things to mention).
Excellent Safety And Durability
Durability and safety are the two most important features to look for in a motorcycle helmet. This helmet has no problems in this area.
First up, this motorcycle helmet features a rather complex outer shell with five interwoven layers of fiberglass, organic fibers, and resin.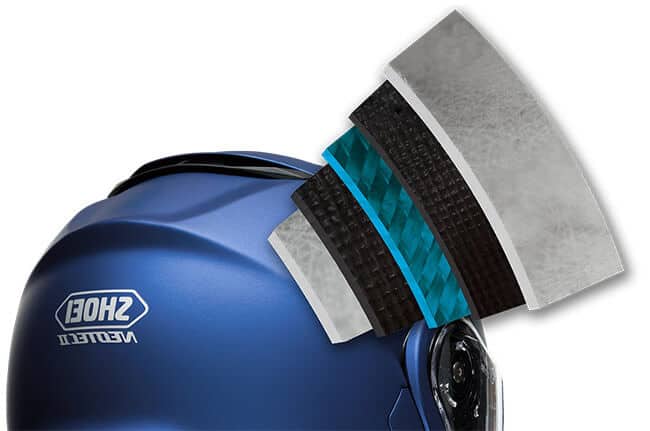 Next, inside the helmet, there is a multi-piece EPS liner, which actually is the most important safety-contributing feature in it. The EPS (expanded polystyrene) is designed to be crush able so that it can absorb energy during an impact, thus reducing the amount of force that goes into your head & body.
Apart from safety and shock absorption, the EPS liner also plays a big role in the comfort of the helmet, but more on that a bit later.
This modular helmet isn't Shoei's most advanced motorcycle helmet in terms of safety for example, the higher-end X-Fourteen has an additional layer of material in the shell, a thicker EPS liner, and an emergency quick-release system.
However, X-Fourteen is noticeably pricier. Not only that, but this model still offers excellent safety for many riders, and it's likely to be sufficient for your needs.
Two-in-one Flip-up Face Shield
The second major feature in this motorcycle helmet is the two-in-one flip-up face shield. Thanks to this shield, you can go from full- to open-face in a matter of seconds. So basically, This model combines a full face and open-face helmet though, of course, it won't be as light as a true open-face model.
The transition from full to open is made via a large release button at the hinge of the face shield. Thanks to its size, the release button should be easy to operate with gloves.
When in its uppermost position, the face shield is held in place with a dual locking system, so accidental closures should never happen in the Neotec II helmet.
Great Visibility
To ensure great visibility, the Shoei Neotec II motorcycle helmet employs two important features an integrated internal sun visor and the Pin lock EVO fog-resistant design.
The integrated sun shield is mounted in the forehead area of the helmet Shoei has raised the forehead of this model slightly to fit the sun shield. The sun shield is injection-molded and should thus be very durable.
As for fog resistance, this model is also pretty interesting. According to Pin lock, EVO lenses are commonly used in professional racing events such as Moto GP, Isle of Man TT, and even Formula 1! So when it comes to fog resistance, there probably aren't many better lenses than Pinlock EVO. We all know anti fog visor is a handy tool to have on a motorcycle helmet.
Adjustable Fit & Comfort
Neotec II boasts high levels of interior comfort system as well thanks to its sophisticated interior liner system. The liner of this helmet is fully removable and washable, so keeping it hygienic shouldn't be a problem. Its comfort liner is removable and you can also adjust or replace the liner if necessary.
Shoei appears to have particularly invested in the design of the helmet's cheek pads. They comprise multiple layers and sit tight to ensure stabilization and a solid fit.
With all that said, some buyers have complained that Neotec II feels tighter on them than other helmets of similar size (particularly, the first Neotec), so you may need to take some liners out or maybe go a size larger.
This helmet's chinstrap is also notable as the premium helmet manufacturer updated its chin strap. With a stainless steel interlocking mechanism, this chin bar not only should easily withstand the test of time and heavy use, but it will also ensure quick closure and opening. Both the full face helmet and modular helmet lovers would like this. If you are looking for the best modular helmets, this model of shoei is a perfect fit for you. It can also be worn in the open position.
Excellent Aerodynamics
The modular helmet retains the aerodynamic character of its first-generation counterpart and even does some things a bit better.
More specifically, Shoei helmets have slightly reshaped and repositioned the top spoiler to reduce lift and drag. Not only that, but the helmet has a new Aero Deflector chin bar with improved aerodynamics. While wearing, the riders wouldn't notice any pressure points because of the chin bar.
The aerodynamics of this helmet certainly isn't the best among Shoei helmets the aforementioned X-Fourteen is noticeably better in this regard. However, if you are upgrading from the first Neotec, you should be able to easily tell a difference because of its build quality.
Superb Airflow & Venting
The airflow & venting of this model are a little more interesting than aerodynamics, and they arguably will make more difference for the wearer.
Shoei Neotec II helmet has two major components for ventilation inflow and outflow vents. The inflow vents are positioned above and below the visor and can be adjusted for added cooling in summer or better heat retention in winter. At the same time, the exhaust outlets are designed to facilitate the removal of hot air from the helmet and provides fresh air. 
Shoei boast that they have extensively tested the airflow of Neotec II in a wind tunnel to maximize cool air inflow and hot air removal. Again, the ventilation of Neotec II isn't the best out there, but it should top Neotec I.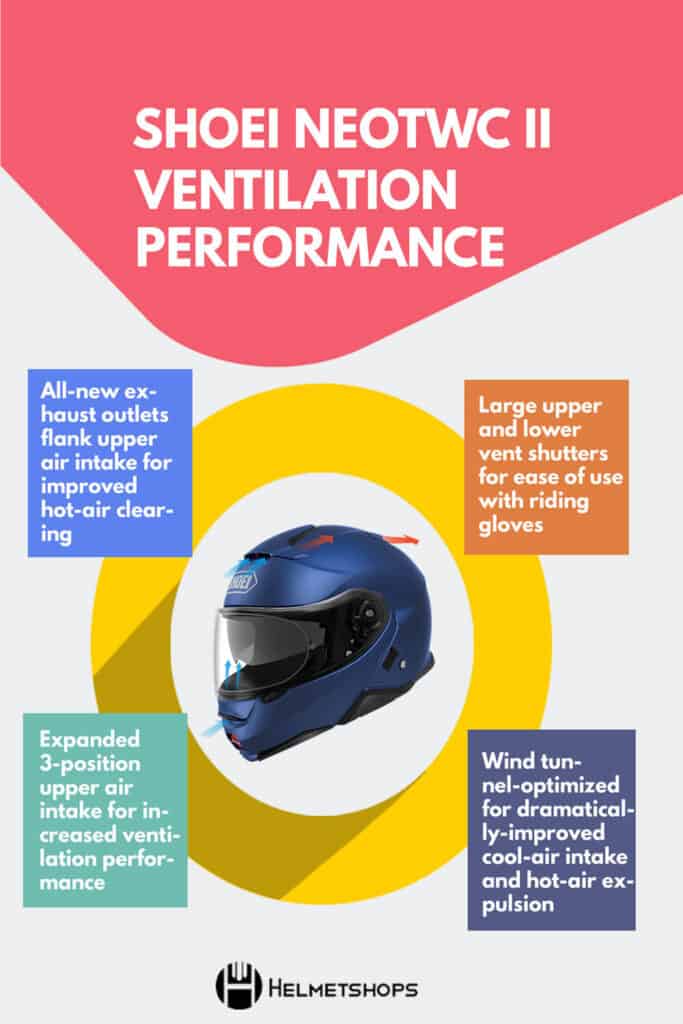 Advanced Noise-Reducing Features
Regarding the sound quality, noise reduction has been an important benefit in the first-generation Neotec, and it has returned in Neotec II as well.
The restrained noise profile of the Neotec II helmet is largely thanks to its aerodynamic shape. However, aerodynamics is just part of the deal it has an airtight window bead and noise-reducing chin bar design, and its cheek pads keep much of the noise out as well. Combined, all this allows for significant deflection of wind and reduction of noise. This is such a quiet helmet.
Protection From UV Rays, Moisture, And Wind
Neotec II's CNS-3 shield is also designed to provide UV, moisture, and wind protection to the wearer as well.
The window beading is designed to prevent water from entering the helmet, as well as drain it if it does make its way inside. At the same time, the face shield works as the internal sun shield which is again designed to block 99% of the suns UV rays, while the spring-loaded base plate ensures that the shield sits in its place and is tightly sealed.
SENA SRL Compatibility
The compatibility of Neotec II with the SENA SRL Bluetooth communication system is a very cool and convenient feature that will allow you to stay connected while on the road. The inclusion of the Bluetooth communication design helps to earn a place as one the segment leaders.
Note that the original Neotec II only supported the first version of SRL, while the upgraded version manufactured after March 8, 2019, works with SRL2. So try to get the upgraded version (though this isn't a must if you don't want SRL2).
Various Colorways
Colorways aren't too important in motorcycle helmets, but its nice that Neotec II is available in several colors in fact, you can choose from matte, metallic, or glossy finishes as well as solid colors.
The exterior appearance & finishing is gorgeous with all colorways, but, of course, which one to choose will come down to your preferences. The finishing quality is excellent as well, by the way as you'd expect for the money.
Frequently Asking Questions About Shoei Neotec 2
IS THE SIZING OF NEOTEC I AND NEOTEC II THE SAME?
It's a little different, but most people have been comfortable with Neotec II at their Neotec I size.
WHERE CAN YOU FIND THE SENA SRL SYSTEM?
Shoei dealers should be selling SENA SRL. Alternatively, you may check online with retailers like Amazon.
WILL NEOTEC II WORK WITH OTHER HEADSETS?
You'll have to try other headsets to see if they work with Neotec II. Shoei only promises compatibility with SRL/SRL 2.
WHAT'S THE DIFFERENCE BETWEEN THE FIRST NEOTEC AND NEOTEC II?
Neotec II is better at everything aerodynamics, noise reduction, safety, and ventilation. If you have Neotec I, then we wouldn't say that you have to upgrade, but if you have the money, then you will get a noticeably better helmet. It also offers four shell sizes including XS to XXL.
Wrap Up
That's it for our Neotec II review!
Neotec II is pricey but is worth its money, in our opinion. It's a great improvement over its predecessor, and if you have the budget, then it definitely is a big upgrade.
With that said, we wouldn't say that you must upgrade to Neotec II if the first Neotec is fine for you and you don't need Neotec II's features, then there probably is no need to spend money.
But if you're looking to buy your first helmet or are switching from a lower-level helmet, then strongly consider Neotec II its one of the best helmets on the market at its price point and offers a big quality and safety jump.