Disclosure: As an Amazon Associate We earn from qualifying purchases.
We all know how important helmets are, especially for your child. Even if he's just riding his bike around the neighborhood, having him wear a helmet can greatly reduce the impact in case he slips or loses balance.
But to make sure that the helmet will be effective in keeping him safe, it has to fit him properly. And that's the tricky part.
Most of today's kid-friendly helmets come in different sizes, so picking the right one depends on his head size. So in this article, we will teach you how to fit a bike helmet for a child. Before that, if you are worried about which helmet you should buy, we have the best helmet for electric bike for you.
We'll give you a step-by-step guide to taking his measurements and making sure that he wears the helmet properly. This way, you can have peace of mind in knowing that his helmet will keep him safe from harm.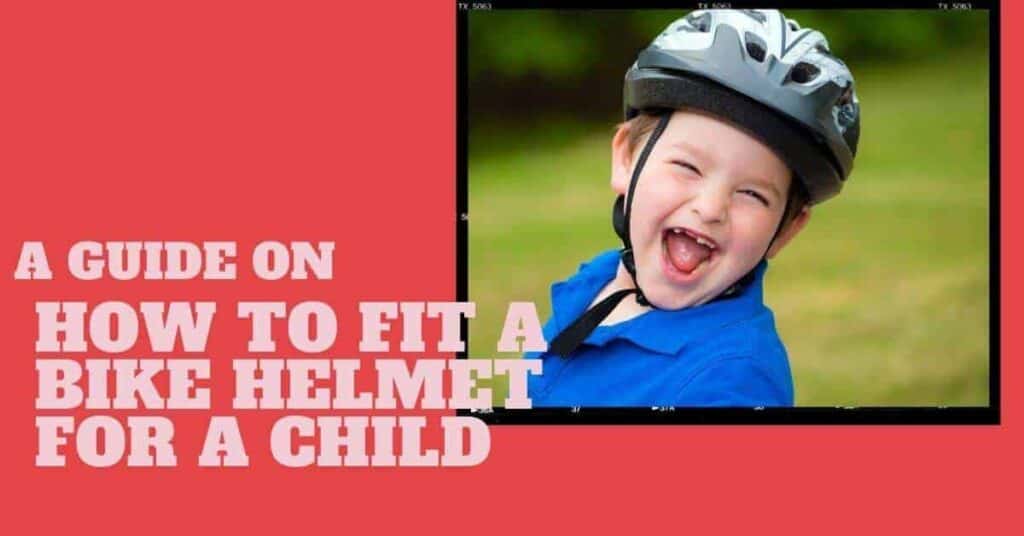 [toc]
Step 1: Take the Measurements
With all the tools ready, you start by making sure that your child is calm. This is the only way for you to take accurate measurements. This won't be a problem for older kids, but if you have a preschooler, it would be best to distract him with his favorite show or toy. As long as it's nothing that would make him too excited, that will help you take his measurements accurately.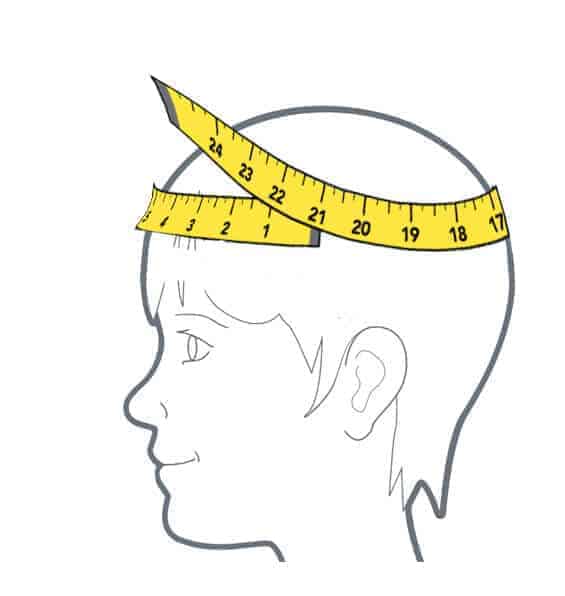 You begin by identifying the widest points of his head. For the front area, you can do this by placing two fingers above his eyebrows. That's usually the widest point of his front upper head. Place one end of the tape measure at this point and wrap it around his head. Make sure that it goes directly above one ear, passing the widest part of the back of his head, over the other ear, and back to the front.
In taking this measurement, we suggest wrapping the tape measure in a way that's not too tight or too loose. This is how you know you'll find the helmet with the perfect fit.
Once you get the circumference of the top portion of his head, write it down so you can easily remember them.
Step 2: Try On Helmets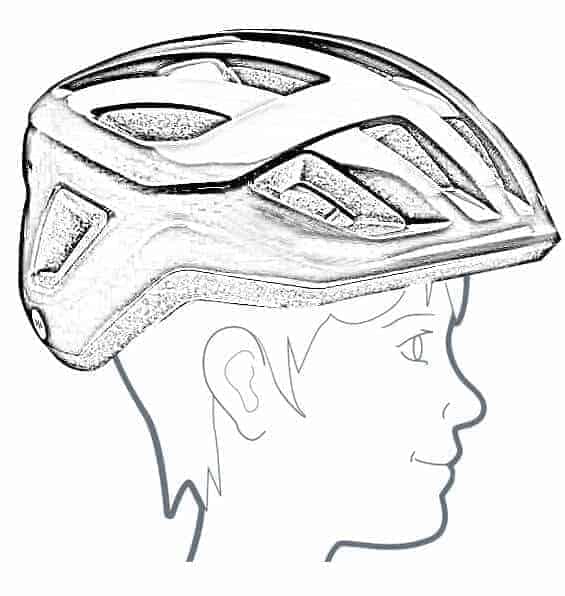 Now that you're equipped with the measurements, it's easier to find the bike helmet with the right size. Most helmet sizes offer a measurement range, so your child should try them on to see if they fit him perfectly.
Bear in mind that some helmet sizes can feel too tight because of the inner padding, which is why it's recommended to try them on first.
You would know if the helmet fits perfectly if it does not wobble on your child's head – even without fastening the straps yet. Also, make sure that the helmet is worn at two fingers above the brows. This guarantees that the helmet will be protecting the vital parts of your child's head.
Step 3: Check the Straps
At this point, you've already found the helmet with the interior that best fits your child's upper head shape. The next step is to make sure you can secure the straps to keep them as snug as possible.
Start by locating the side straps. These are Y-shaped straps located at the sides of the helmet. These straps keep the helmet from moving from side to side or from front to back. These straps are often adjustable to make sure that they won't be too loose or tight as your child wears them. Make the appropriate adjustments until they fit.
Now, you can buckle the helmet at the chin strap. Make sure that it isn't too tight to restrict your child's jaw movement. A tip is to make sure you can still fit a finger inside the strap. Not only will this test how secure the helmet is, but it also makes sit easier to take off later on  
Step 4: Ask Your Child
But most importantly, you should ask your child if he's comfortable with the helmet. As you proceed with trying on one helmet after another, always keep an open line of communication to make sure that it fits him comfortably.
Ask him whether the straps feel too tight or whether the interior offers his head a comfortable amount of cushioning. Also, ask him if the helmet feels heavy or not. Once your child finds a comfortable helmet that complies with the guides we discussed above, then you have already found the perfect one for him.
And that's all it takes — you now know how to fit a bike helmet for a child.
FAQs
Before ending this article, here are some answers to your frequently asked questions.
How do I know if the bike helmet offers superior protection for my child?
In general, you could easily tell by the materials used for the outer shell, the cushioning on the interior, and the quality and thickness of the straps. These are tell-tale signs that you have a protective bike helmet that is effective against potential head injuries.
But, the best way to know is to check if the helmet complies with the standards set by the Consumer Product Safety Commission or CPSC. If the bike helmet has a CPSC sticker, then you know it's safe for your child.
Are bike helmets for children expensive?
On average, decent bike helmets for children are available for around $50 to $100. Considering the protection and benefits that your child will derive from it, we believe it's well worth the money.
Until when is it safe to reuse a helmet?
Experts agree that your child can safely reuse a helmet as long as it has not yet been involved in a crash. Once it has, then it has already served its purpose and you should replace it as soon as possible. While it may not have visible signs of the impact, it will not offer the same amount of protection to your child — and that's not something you should risk.
When should I replace a child's bike helmet?
There are several factors to consider determining when the helmet needs replacement. The first is if the helmet has already been involved in a crash. Even if you've just accidentally dropped the helmet, you must know that it's already time to have it replaced.
The second is if the helmet no longer fits around your child's head. This is quite obvious since it won't be comfortable and protective anymore.
And the third is if the outer shell becomes deformed or has become brittle. The harmful rays of the sun can cause the quality of the outer shell material to deteriorate over time — usually a few years. In this case, it will no longer be as protective as when you first bought it, so you have to replace it at that point.